"I'm back, Juggies. See you very soon. A REAL, special announcement coming tomorrow!"
―Description
16 - The Return is the sixteenth and final episode of the C-R-I-S-I-S series. It was uploaded onto the McJuggerNuggets YouTube channel on June 24, 2016.
Plot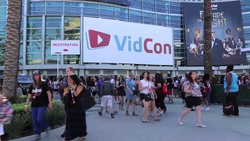 The video starts off with Jesse beginning to remember who he is. Once he finally has, he tells Jeffrey Jr. that he is indeed McJuggerNuggets, a YouTuber that has a passion for storytelling and episodic series. He then realizes what sentence the scrabble letters form into: "AT VIDCON RIGHT NOW". Although Jeffrey Jr. does indeed say that he is correct, he explains that this was all just another series about finding out who he really is. Jesse then begins to have a mental breakdown, struggling to believe that it is fake. Jeffrey Jr. hits Jesse before hinting a video that would be released the following day.
The video then cuts to a shaven Jesse at VidCon 2016 - indicated in a previous vlog,[1] mentioning that he has an identity crisis in a parallel universe, before walking and disappearing into the crowd.
Characters
Letters So Far Found
(By order of appearance)
O-A-T-N-C-D-O-G-W-V-N-R-N-T-I-I (Letters have been revealed to say "AT VIDCON RIGHT NOW")
Locations
Zermatt, Switzerland
Anaheim, California

Anaheim Convention Center
Trivia
Nearing the end of the video, a billboard advertisement at Vidcon for the YouTube Red series "Escape the Night with Joey Graceffa" could be seen.
This is the first time Jesse is seen with short & gelled hair since The "No-Arms" Challenge (ORIGINAL VIDEO).
References
Community content is available under
CC-BY-SA
unless otherwise noted.