Disney's Frozen Elsa Snow Glow Doll *DESTRUCTION*

Post Date
January 11, 2015
Duration
8:34
Genre
The Classics
Episode Guide]]
← Previous Video
2Girls1Cup Reaction
Next Video →
FAN MAIL MONDAY #6 -- SO MUCH CREATIVITY!
Picture Gallery
Video Transcript
"*DO NOT TRY THIS AT HOME* Jesse and Corn are disgusted by this new Disney Frozen Elsa Snow Glow Doll and Olaf so they decide to take it off the market. By using fire, water and their bare fists...they take Elsa down piece by piece."
―Description
Disney's Frozen Elsa Snow Glow Doll *DESTRUCTION* is a video uploaded onto the McJuggerNuggets channel on January 11, 2015.
Plot
A destroyed Elsa doll and Olaf figurine are seen being lit to flames inside the box package in the Ridgway Morton Building.
Earlier before this, Jesse does his intro and introduces the viewers to a "Disney Frozen Elsa Snow Glow Doll"[1], to which he and Zachary Cornatzer decide to destroy after they situate and position Elsa and Olaf - an additional figure which comes with the toy - in disturbing positions.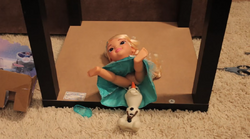 They begin by cutting her hair with a knife and spraying her with hair spray. Jesse draws on her face with a marker and starts to stab her torso. They begin to throw her in the air in an attempt to stop her voice box from functioning and throwing her against the stairs, splitting the right foot from the body. After her head is disconnected from the torso - using other methods such as dropping a weight on her head, Jesse and Corn start toying around with it, using it as a ping-pong ball. Learning that her voice-box is merely glitching, Jesse bats the doll against the wall, but to no avail does he stop the voice-box - in fact, the destruction renders it to normal. They place it in the toilet & urinate on her, but a hammer to the torso ultimately stops the voice-box from functioning.
The two rush to get Olaf before they taunt the two toys, claiming that Olaf will "feel summer" before they ignite a fire and light them up.
References
Community content is available under
CC-BY-SA
unless otherwise noted.