"Hey there, Juggies! It's your old pal McJuggerNuggets here..."
―Jesse's intro for his YouTube videos.
Jesse Ridgway (born September 29, 1992) is a YouTuber and the owner of the McJuggerNuggets YouTube channel. He is best known for playing the fictionalized version of himself, Jesse Ridgway, in his infamous YouTube series, the Psycho Series. Jesse also played fictional versions of himself post-Psycho series in the mini-series C-R-I-S-I-S and in the recently ended documentary series. He is now currently filming and uploading a new series throughout October.[1][2]
Biography
Early Life
Jesse was born on September 29, 1992 to Theresa and Jeffrey Ridgway Sr.. He is the youngest of two siblings (his brother being Jeffrey Ridgway Jr.). After his birth, not much is known, but Jesse does confirm that his most traumatizing year in his childhood was when he was 8 in 2000-2001. A tad obese Jesse gets his lower legs immobilized when he walked through hot asphalt.[3] That same year, he was attacked by a savage Fred, one of his childhood dogs.[4] He was rushed to medics on both occasions after suffering critical effects. It is known that Jesse had befriended Georgie Stahlberger sometime before 2002, where he and Stahlberger were seen in images with Georgie's sister Emily.[5]
YouTube Career
Jesse started his YouTube channel, "McJuggerNuggets" on December 9, 2006 and came up with name "McJuggerNuggets" after using the washroom. Prior to this, he had Chicken McNuggets. He named his channel "McJuggerNuggets" and started making various videos soon after[6]. Jesse's debut video was Cops- The Untold Story, a halo video. It wasn't until later he started to create skits. Despite having a weight problem, it was a time when his family was supportive to the gradually slow success of the channel, starting from his first videos.[7] In 2010, Jesse became a graduate of Arthur P. Schalick High School,[8] but struggled to pay a debt of $70,000.[9] Footage of his graduation celebration was seen in the skit Jesse Reaches 100,000 Gamerscore.[10] In June 2014, he had graduated from Rowan University with a degree in Film. Jesse had created a number of series before the Psycho series, some include The G.A.M.E., Everyday Situations, M.I.N.D.-Your Own Business, Rule19 (Clone Series) and the Super Mario Bothers Trilogy.
The Psycho Series
The Beginning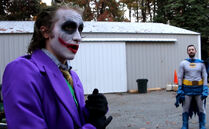 Jesse had became well-known for his skits, but started to rise to prominence when he had started to create and direct the Psycho Series, also playing the titular protagonist. The series lasted from December 22, 2012 - June 6, 2016, including a 50-episode run and 400+ vlogs.[11] Mid-way through his works, he had managed to pay off his $70,000 debt. Early on during the series after the massive success of Psycho Dad Shreds Video Games and other Psycho videos, Jesse was offered a chance to be on television, so he and his father Jeffrey Ridgway Sr. went to London to do so. They appeared on E4's Virtually Famous[12]. The trip was filmed on Jesse's channel, however both he and his father were in character the whole time.  
Medical Mystery Begins
"Hey there, druggies... It's your old pal McMonoNuggets here..."
―Jesse in-character, but seemingly sick for real in JESSE GETS MONO!
Mid-way through his vacation in North Carolina, Jesse contracted Mononucleosis and also started to feel pain by his spleen, which later on was revealed to be an adhesion. This pain would succumb him throughout the series and a little beyond. [13][14][15]
Learning From Mistakes
Jesse, the latter year in his second North Carolina vacation on video, revealed he would watch "McJuggerNuggets Exposed" videos to learn from his mistakes, as mentioned in MCJUGGERNUGGETS REACTS TO FAKE EXPOSED! (1+2). He would watch videos pointing out his plot holes and quickly attempt to fix or cover them up.  
Commitments
During the course of the Psycho Series, Jesse after it was over mentioned multiple times in the that the series felt real, most emotions and events felt genuine. He also mentions that he lost a lot of friends being so busy, there was relationship issues between him and his girlfriend, odd and strange fan encounters, issues with the police and much more.[16]  
The Finale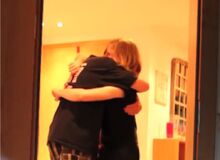 When the series finally came to a close, Jesse felt overwhelmingly sad and empty because he missed the character and the series in general. Jesse now has done role reversals and Psycho parody videos as a legacy for his break out series.[17] 
The C-R-I-S-I-S Series
The mini-series C-R-I-S-I-S was filmed to portray the Juggies and with coming to terms with the Psycho Series being staged. He wrote the series in less than a day and made it sixteen episodes so that it would lead up the day in which he went to Vidcon. The behind the scenes were released of this series, shown in C-R-I-S-I-S SERIES! (BTS). For the sixteen days this mini-series lasted, Jesse took a break with his family in Switzerland, sight seeing and exploring various locations as shown on BigBrudda's channel.[18][19]
This section is in dire need of a rewrite
REAL LIFE VLOGS!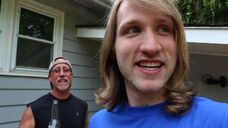 As he returned home from Switzerland, he filmed a couple of days of his real life prior to Vidcon. During the course of towing away the torn down Wingless Eagle, Jesse shaved his beard and cut his hair for three million subscribers, something the Juggies had highly anticipated for months. Sometime just before Vidcon it is shown in My Biggest Secret! (REVEALED) Jesse is at the Wingless Eagle once again however this time with Brian Spitz and his film crew, this was revealed in the same video to be because of a documentary Brian was doing on Jesse and his family.
As Vidcon finally arrived, Jesse and his family including his girlfriend then went to the convention, meeting Michael Green, other YouTubers and of course his fans, the Juggies. In VIDCON 2016 & MY REAL GIRLFRIEND! he showed a small portion of himself at Vidcon along with his family, they were on their way back home at the time, he also very briefly mentioned youtuber24 and how he "came back into his life", which was in reference to the documentary. Upon getting home, Jesse films more of his day to life and as the Real Life vlogs went on, he revealed little tidbits about the behind the scenes of the Psycho Series. The Ridgway family then take a trip to North Carolina.
This section is in dire need of a rewrite
Prank War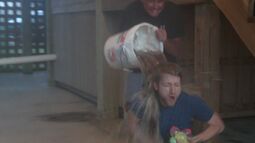 While staying in North Carolina for the second time on-video, the Ridgway family decided to prank Larry Abraham while he slept, drawing various things on his bald head, putting things in his ears and pouring liquid near his crotch area. This ultimately sparked a massive prank war, real or not, and Jesse was one of the first to be hit back, with fish guts being poured on him, however by Jeff Sr. not Larry.
As the family got back home, Jesse and Larry fought back eventually with Jesse pranking Larry, however failing and getting Joe instead with hot sauce, and Larry tying up Jesse, forcing him to call Jeff Jr. and then taking them down together, Jeff Jr. was now involved due to his uncalled for prank in IS GARFUNKLE DEAD?. Since Jesse's surgery, he has no longer been a part of the pranks, except for the small prank Larry pulled in MY STITCHES RIPPED?!?!
This section is in dire need of a rewrite
Medical Mystery Ends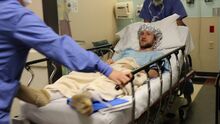 During the REAL LIFE VLOGS! and documentary series, in MCJUGGERNUGGETS UNDERGOES SURGERY! Jesse finally goes to hospital for surgery. The MCJUGGERNUGGETS MEDICAL MYSTERY! finally came to a close and the reveal of the problem turned out to be an adhesion. Jesse recovered in a matter of a week or so and is now back on his feet.
This section is in dire need of a rewrite
The Documentary Series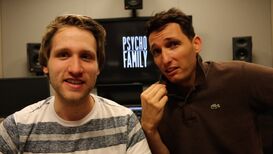 During the REAL LIFE VLOGS and Prank War, a new series began with Jesse finding out that Brian uploaded a video which reveals a documentary featuring him and his family is in the works. Enraged, he then revealed to his audience that he was under contract not to release any behind the scenes until the documentary that Brian Spitz was working be finished. He was upset that Brian was allowed to reveal the documentary and Jesse was under the impression that he couldn't. This led to ever-growing tension between him and Brian, which also led to Brian being attacked by a fan, his number being leaked and Jesse shredding the rough cut of the documentary. This caused Brian to quit working on the documentary. After the hard drive being ruined, Jesse, Parker, and his dad fly to Hollywood, to find Brian and get the BTS. Having found Brian, Jesse and his dad become engaged in an intense argument with Brian, which leads to Jeff destroying Brian's television and Brian running away. The series ends with Jesse, along with Parker filming him and Brian, having a "final showdown" and eventually reconciling, Brian then agrees to show them the documentary once more. Here, like the Psycho series finale, Jesse snaps his fingers and the camera falls to its side, revealing the series to be fake. Jesse and Brian then talk about why the series was made and when the now titled Psycho Family documentary is to be released.
The Corn Situation
"You're filming with your best friend, holding a camera, getting to sleep in everyday... there's so many cool things that I feel like anybody would jump on this opportunity in a heart beat... So, for him to take that for granted... It just doesn't make sense to me."
―Jesse in The Truth About Corn Quitting.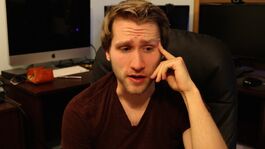 Jesse revealed a large portion of his interactions behind the scenes with Zachary Cornatzer, the Psycho series' cameraman in The Truth About Corn Quitting, stating that the two had an ever decaying friendship behind the scenes, mostly starting in October during the Construction Series when Corn flipped off Jesse's mother for no good reason after she made an innocent joke. Jesse admitted he wanted to fire him multiple times as well, and as did his family after the flipping off incident, but after Corn apologized as per Jesse's request, everything was mostly normal again after that.
Corn was said to be greedy, ignorant and angry during the end of the series, always in a pissed off mood and on his phone. In the behind the scenes of JULIETTE GETS FRISKED! Corn said he was so pissed the night of filming that he almost had a heart attack, Jesse on the other hand was confused as to why he was so angry, thinking it was because he had grown to "hate his guts". Jesse eventually gave Corn a raise, which in the long run didn't prove to be enough for him. According to Larry Abraham, after discussing the finale, Corn quickly paced off and muttered under his breath "what a waste of time". It was also said that Corn almost stopped the finale of the Psycho series from happening, but ultimately Jesse's brother Jeff Jr. stepped in and did the filming for Psycho Kid Flees Country himself. 
HAUNTED EXPLORATION SERIES!
TBA!
Acting Roles
More to be added
Series He Has Made
Series
Status
Timespan
Description
Overachievers
Finished
Feburary 15, 2009
-
July 12, 2009
Jesse Ridgway and Mark Locuson were once incredibly close friends, but it all comes to an end in this explosive series revolving around xbox, guns, and the strong desire to achieve.
The G.A.M.E.
Finished
March 21, 2010
-
March 9, 2012
All hell breaks loose as aliens arrive on Earth leaving Jesse and Pat to take matters into their own hands. It all comes to a head as they realize they're caught up in something they're powerless to stop, just one big G.A.M.E.
Rule 19
Finished
June 5, 2012
-
September 21, 2012
Mr. Ridgway acquires a cloning device and begins making clones of himself, however it starts to get out of hand as the clones start going insane.
The Psycho Series
Finished
December 22, 2012
-
June 6, 2016
Two brothers fight each other while dealing with their psychotic father.
Everyday Situations
Finished
January 20, 2014
-
January 25, 2015
Tired of life's bullshit? Check this series out and laugh with us as Curtis and Simon tackle some daily nuisances.
The Juggies Powwow
Finished
October 14, 2014
-
May 26 2016
A longer-form vlog where Jesse discusses complicated topics and offers his advice.
Fan Mail Monday
Unknown
December 8, 2014
-
February 29, 2016

2016 or 2017

Jesse opens letters and packages sent to him from the "Juggies".
QnA Series
Ongoing
March 22, 2015
-
present
Jesse answers a multitude of questions from the Juggies ranging from really easy to super personal/uncomfortable!
Kicked Out
Finished
April 1, 2015
-
May 1, 2015
Jesse gets kicked out of the house and is forced to make ends meet by living on his own.
McJuggerNuggets Movie Madness (#MMM)
Postponed for the foreseeable future
July 1, 2015
-
May 18, 2016
Every Wednesday, Jesse holds a contest for aspiring Youtube creators to create their own video for a chance to be featured on the McJuggerNuggets channel and receive a shoutout!
Construction Series
Finished
October 1, 2015
-
November 1, 2015
Jesse, Uncle Larry, Mark and Corn start building a gaming room in the Morton Building.
Odd Jobs Series
Finished
March 14, 2016
-
April 7, 2016
Jesse searches for and works at multiple jobs to appease his Father.
Haunted Series
Finished
January 9, 2016
-
February 11, 2016
Jesse moves into a new house, thanks to his Aunt Jackie. However, not only does it need some fixing up, but also could probably use a priest.
C-R-I-S-I-S
Finished
June 9, 2016
-
June 24, 2016
Jesse wakes up in Switzerland with no memory of who he is...being forced to rely on his family and some scrabble letters.
HOLLYWOOD HYPE/DOCUMENTARY SERIES
Finished
July 25, 2016
-
September 23, 2016
After finishing the Psycho Series, Jesse is unable to put out his "behind the scenes" content because of a legally-binding contract with a shady Hollywood director.
HAUNTED EXPLORATION SERIES!
Ongoing
October 1, 2016
-
present
References
Trivia
During an interview with MikeOwenTV, Jesse revealed that he didn't like the brand name "McJuggerNuggets" as an identity, saying that the name would not be taken seriously from a business standpoint. However, he eventually became cool with it, now having multiple kind of brands, such as McJuggerNuggets, Psycho Kid, and RiDGiD STUDiOS.

Jesse also talks about the 'Psycho Girlfriend' incident, where Kate exposed the Psycho Series being fake, as well as clearing up false information about him, such as his comparisons of being the "Joffrey Baratheon of YouTube".
Community content is available under
CC-BY-SA
unless otherwise noted.