Jurassic World: Dominion Dominates Fandom Wikis - The Loop
Play Sound
"I used to look up to you, Tom...but now...Talon is gonna peck your f**king eyes out."
―Jesse's final words to Tom before his pet eagle Talon pecks out his eyes in

Final Showdown

.
Jesse Ridgway (born September 29, 1992), mostly known as McJuggerNuggets or RiDGiD GAMiNG and referred to as Psycho Kid, is the central protagonist of his vlogs, the titular protagonist/anti-hero of the Psycho Series and a minor character in The Devil Inside Series.
He has a gaming addiction, much to the dismay of his angry father which caused seemingly everlasting conflict with Jesse, causing him to go psychotic under his oppression, ultimately snapping, murdering him, and fleeing to Switzerland.
He was portrayed by his real life counterpart, Jesse Ridgway who received nominations for best actor during the 2016 Streamys, however lost to Chris Kendall.[2]
He appears briefly in The Devil Inside Series, both as himself and as a mix between him and Francis in boogie2988's body.
Biography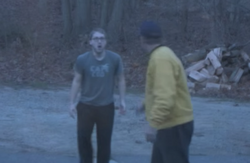 In 2012, just on the verge of Christmas, Jesse Ridgway, having a strong passion for gaming, gets his Xbox console thrashed by his father.[3] After knowing that this event was uploaded to YouTube by Jeffrey, Jesse blackmails him and threatens to show his father the video, this results in getting his camera broken by him in retaliation,[4] which later outcomes in getting Jeffrey's laptop broken.[5] 
Brain Injury
In 2014, he received a concussion while filming a skit when he fell face-first onto a table.[6] This was a major impact in Jesse's life.[7] By the end of 2014, he described the year as the craziest one in his life.[8]
First Conflict with Psycho Dad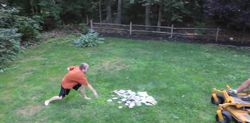 On July 11, 2014, Jeffrey randomly decided to cut off some of his hair for fun, which the prank was stopped by Theresa Ridgway.[9] Later, 3 months after Jesse had graduated college, his dad decided he needed to stop gaming and get a job. He later ran over the games with a lawnmower.[10] A few weeks later, Jesse was grounded for refusing to find a job outside of YouTube, and was caught by his brother playing on a Game Boy with his friend Buzz. Jeffrey told on him, which led to a big argument between Jesse and his father, with Jesse ending up smashing his dad's TV with a baseball bat. He then temporarily moved out and came back eventually.[11]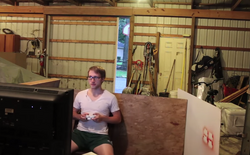 During the same grounding, Jesse goes out to the shed to play Halo Reach, away from his family, but his Dad, because of Jeffrey finds him playing and throws the Xbox in the pool.[12] Jesse was then going to job interviews but ends up going to get his Xbox 360 fixed. He was caught coming in the house by his dad, and he throws it through the car windows when he founds out Jesse got the money from his mother.[13]His dad, Jeffrey and Jesse's friend Zachary Cornatzer (alias Corn) come into his room while sleeping on Halloween and squirt ketchup on him and run a chainsaw to make him think that he got sawed up by a chainsaw.[14]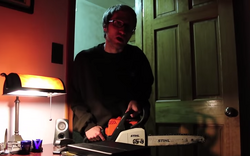 Jesse decided to get him back with the prank, but it leads to his father sledgehammering his Xbox One.[15] There is a big argument at Thanksgiving dinner, which leads to Jesse flipping over the tables and throwing pies at his father.[16] A week and a half later, Jesse decides to apologize to the family, but his father says "Don't expect anything for Christmas this year either.", which leads to Jesse's outrage of getting nothing for Christmas, despite getting numerous items from his sub-series Fan Mail Mondays, which started not long before the apology.[17] On Christmas morning, Jesse gets reindeer antlers, while Jeffrey gets an Xbox One. Jesse decided to set the tree on fire because he didn't get the Wii U he wanted. His mother ends up getting him one at the end of the video.[18]
"Jesse's dad is a big fat bitch, he's the biggest bitch in the whole wide world!"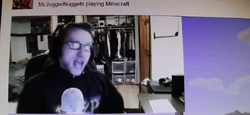 Jesse sings a song parodying a song from South Park on one of his Twitch streams making fun of his dad, not knowing his dad was watching the stream. He then comes in and takes his monitor and destroys it.[19] A few weeks later, Jeffrey and his girlfriend Kate were arguing about how lazy he is, and Jesse was filming it. Kate ends up smashing Jeffrey's tablet against the corner of a wall.[20] A few days later, Jesse decides to make a celebration video for reaching 500K subscribers, but Jeffrey ruins it by taking his YouTube Play Button for reaching 100K subscribers, which leads to a clash between the two, which leads to their father interceding the fight and destroying Jesse's play button.[21]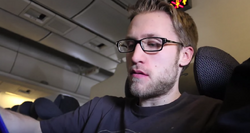 Jesse and his father then get invited to be on the TV show in London called "Virtually Famous" because of the Psycho Series. One day while in London, Jesse stays in the hotel playing on his DS while his dad went sightseeing. They get in an argument and his dad curb-stomps the DS.[22] Jeffrey decided to get payback from the iPad video, so he tricked Jesse into thinking there was a replacement play button on the porch, but there isn't and was locked out after going outside.[23]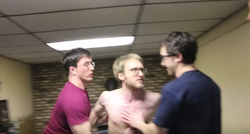 Jesse and his two friends Zachary Cornatzer & Mark Locuson had a World of Warcraft LAN party But Jesse's brother unplugged them from the internet. Jesse saw him filming them, and then they started arguing. Then their father comes down to see why are they arguing because he and his wife couldn't sleep of them. Then Jesse & his father started arguing because Jesse don't have a job. Jesse then yelled "If you were a better dad, You would understand". That made his father mad and then Jesse's father pushed a cup of mountain dew on Jesse's laptop. Jesse and his friends reacted quickly by taking wipes and removing the mountain dew. Jesse told his father that his friends saw the Psycho Videos and Jeffrey Sr. flipped the table of pop drinks and destroyed/damaged the laptops.[24]
First Eviction from the Ridgway Household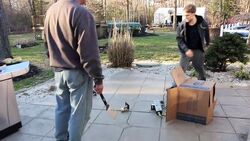 Nearing the end of March, Jeffrey and Jesse planned a revenge video for the play button destruction that would involve smashing some of his father's baseball trophies from when he was a kid. Jesse and Jeffrey worked out a plan together.[25] They put their dad's trophies in a box and went outside, where their father was making burgers on the grill and smashes the first trophy on the ground. When his dad walks close up to him, Jesse smashes more trophies which leads to a freak-out of his dad, setting the Wii U on fire and gets Jesse kicked out of the house.[26]
After Jesse's exile, Jesse kept updating his subscribers by uploading daily vlogs.[27] His mother and Jeffrey bring him food and clothes out to his tent or the garage, while Jeffrey starts to grow more insecure. Jesse now calls the tent "Eagles Landing", using two eagles from one of the trophies as an inspiration for Jesse. Jeffrey also gave Jesse his old Laptop so he can still upload the videos. Jesse has also been able to get electricity, thanks to a friend called Mr. H who gave him a generator to borrow while he was out of the house and living in his tent. He then bought more supplies for his tent, including an Xbox 360 and a TV and snuck into the house to collect his Skyrim game while he lives in his tent. However, Jeffrey then blows Jesse's Skyrim raid when Jeffrey calls out his dad. Jesse then plans to relocate Eagles Landing.
Since then Jesse had still been "technically" living on his family's property. He has completed his Eagle's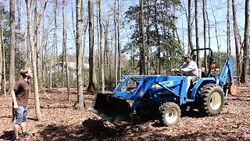 Landing gaming setup as well. On April 11 2015, Jesse woke up to find that none of his cables were powered. He found that they were unplugged from the garage along with a note that explained: "If I find out you've been stealing electricity again, there will be consequences." This made Jesse ponder what to do next. Later that day he decided to use the generator that his neighbor let him borrow but it was too loud. The same night he decided to post a tweet asking if he should move his tent and setup farther into the woods, or stay and fight. He also uploaded a video later that night asking his viewers to respond to him about the question. In the end he stood his ground and plugged the power cords in, but his dad came and bulldozed his entire tent & setup the next day in Psycho Dad Flattens Gaming Lair. Everything in the tent was either destroyed or damaged badly. Jesse later launched a daring raid on the house to gather some items (fortunately, it didn't come to blows with Psycho Dad) to stay at his friend Zack Dingler's house. What is next is still being decided by Jesse.
After Eagle's Landing was destroyed Jesse moved to Zack's house. He never did see Zack or his family, although Zack was in a few of Jesse's older videos. While he was at Zack's house he could live his old life the way he used to. After a while though he decided to move from Zack's house. His parents were not fully on board with it, Zack himself wasn't feeling up to it by getting in the way, so Jesse made a few vlogs asking viewers if he should go stay with his girlfriend (who was a college student). In the end he decided it was so, and he drove up to Pennsylvania.
Settlement at his Girlfriend's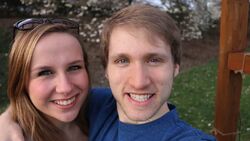 While with his girlfriend and her friends, Jesse felt more loved and at home than anywhere he previously was. He stayed in an air mattress in her room, and when she went of to class he toured around the campus, city, and condos. He then received an offer to stay with his uncle Larry Abraham, and asked on Twitter/YouTube if he should go back to Zack's house, or go with Uncle Larry. He decides to go to Larry's house.
When arriving at Uncle Larry's house, Jesse is greeted by his uncle, holding a beer. After talking a bit about rules and Garfunkle, Larry's disabled cat, Tom, Larry's son and Jesse's cousin sparks a conversation with Jesse. Larry invites him to work one day, only to find out that his mom had been making T-shirts to sell to the "Juggies". They come home to a voicemail, left by Jeffrey Sr., saying he shouldn't be at his house. Jesse is then forced to stay outside in the tent titled "Phoenix Landing".
Jeffrey's Emergence
Meanwhile, Jeffrey decided to pull a prank and paintball Jesse's tent, only to be reversed on, destroying Jeffrey's camera lens. As revenge, he destroys all of the trophies in JESSE SMASHES TROPHIES! (Broken Lens Revenge), and frames it on Jesse. After Jesse's dad finds the trophies, he goes to Uncle Larry's house, and destroys one of two DS Lites from Fan Mail Mondays. Uncle Larry defends Jesse, saying that Jesse was innocent and that it was most likely that Jeffrey did it. Jesse's father throws a chair on the ground, and is threatened by Larry to leave, or he would call the cops in PSYCHO DAD FIGHTS UNCLE LARRY!.
On April 26th, Jesse gets into Larry's RV, at long last. He and Larry found the video of Jeffrey Jr. smashing the trophies, and thinks of a plan to get back in the house, by making a video with Juggies reciting a speech. The following day, Jesse's channel (after 8 years) finally reached 1,000,000 Juggies/Subscribers.
Homecoming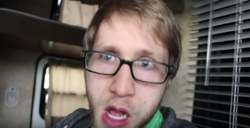 On May 1st, 2015, Jesse is kidnapped by Jeffrey and drives him to The Ridgway Residence. Jesse makes his move by showing his father the Juggies Unite video and Jeffrey Jr. smashing his childhood baseball trophies. After a moment of silence, Jeff Sr. decides that Jesse could take residence in the home in under the condition that he worked for his father for free and paid rent. Jeffrey, on the other hand for framing Jesse of smashing a second stash of trophies gets his camera thrashed.
On May 5th, 2015, Jesse, his family (except Jeffrey since he was away at the time), and his girlfriend were "swatted."[28]
"Scared Straight" Arrest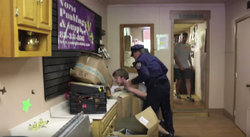 "I play Grand Theft Auto, I know how this works!"
―Jesse talks back to Jeff Sr's friend, who was believed to be a police officer
After the swatting, Jesse, despite the fact that how much he had to pay, was forced to pay the bill but ended up in a brief argument most of the time. On May 21, 2015, Jesse gets supposedly arrested while causing a tantrum in a store. Jesse apologizes to the store and talks to Joan, the mother of supposedly the store owner. After declining that she did not call the cops, Jesse's mother, Theresa reveals that the arrest was set up by his father and his mischievous brother & that the goal was to force Jesse into respecting them. An argument occurs in a therapy session a week or so later. Around that time, Jesse makes amends with Zachary Cornatzer, which the two had a falling during the events of Psycho Dad Crashes WoW LAN Party.
Jesse also gets into the merchandise business and starts making t-shirts. However, his mistake was taking the risk of making a limited time "Psycho Dad" t-shirts, which was a two-week store exclusive for Father's Day. Jeff. Sr got ahold of this and in turn, buries his video games. Jesse is invited to E3 and arrives to Los Angeles to participate. When he comes back, it is on the verge of Father's Day. Jesse goes back to the site of the buried video games (Jesse did manage to get some games before E3), only to find out that the hole was covered up. Jesse and Jeffrey give their father a grill for Father's Day, which convoluted into an argument between Jesse and Jeff. Sr.. Jeff. Sr reveals that while Jesse was at E3, his father scooped up all the video games.
North Carolina Vacation & Jeffrey's Punishment
Leading to their trip to North Carolina, Larry Abraham , Jeffrey Ridgway Jr. & Jesse film a Kung-Fu skit days before their departure. Jeffrey complains of his role as a female character and freaks out, shouting and insulting the latter. Despite Jesse insisting Jeffrey to come to the trip, Jeffrey disagrees and is punished by not coming to the trip.
When Tom and Larry film a Chillin' & Grillin' episode, Jeffrey Ridgway Sr. argues with Theresa Abraham-Ridgway, which leads to a mononucleosis -infected Jesse nagging behind his father as he throws the house Wii into the nearby river. An argument occurs inside the house about the Wii and Jeff Jr.'s actions back in New Jersey. In the aftermath, Jeff Sr. requests Jesse to go kayaking when he and Larry were searching for the remains of the Wii, which he reluctantly accepts. When they reach nearby land, Jesse realizes this was a trick when his father leaves him stranded on the island. However, Larry rescues him and brings him back to the vacation house.
Prank War
Later on Jesse's, Jesse secretly goes on Jeff. Jr's computer and uploads a prank video (MCJUGGERNUGGETS TAKEOVER!) on to BigBrudda to attempt to tell Jeff Jr. not to leave his PC on. Since then, Jeff. Jr's and Jesse's relationship has gone unstable and formed into a prank war. Jeffrey interrupts Jesse's live-stream by filling his room with smoke using fog machines.[29]
Operation Orange Crush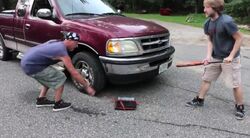 On August 19, 2015, Jesse steals the keys of Jeff. Sr's backhoe along with Corn and Beth, Then, on August 20, 2015, Jesse and Corn hijack the backhoe but later get caught by Jeff. Sr. Jesse forms an alliance with Larry Abraham and plan to retaliate against Jeffrey by running over his PS4 with Larry's truck as revenge for the events in the "WEEK OF TERROR".
Surely enough, on August 21, 2015, Jesse and Larry, with the help of Corn get Jeffrey to painfully watch his PS4 get run over. However, Jeffrey quickly reciprocates by paintball the truck, but Jesse, Larry and Corn manage to escape, despite Jesse being shot once while dragging the PS4 on the empty roads. Jesse and Larry stop and beat the PS4 to pieces.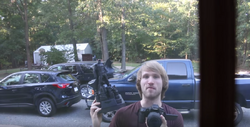 As revenge, Jeffrey stole two PS4's and an Xbox One Jesse was planning to do a giveaway with, as well as claim the PlayStations as his own. However, Jesse and Larry convince Jeffrey to give back the consoles, despite hiding his Batman Collectible Statue in the Fan Mail room if anything happened. Jesse has Larry secure his room from any danger with a deadbolt.
Jeffrey's Revenge
In an attempt to make amends with his brother, Jeffrey sneakily stole the keys to the deadbolt and locked Jesse in. Despite believing he didn't have a second key, Jesse had to go through the window in order to get out of the house. Jeffrey taunts Jesse in not giving the location of the key and in turn, Jesse pronounces him a villain.
A few days later, under the belief that Larry had the second key, Jesse calls him in an attempt to get the second key. However, Larry reveals that despite recommending it, he put it on Jesse's car key chain, much to Jesse's surprise. Jesse unlocks his door and carols Hallelujah to celebrate.
Second Conflict with Psycho Dad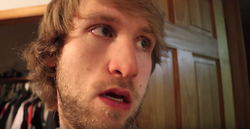 "I just told you why, so this motherfucker wouldn't come in my room!"
―Jesse to Jeff Sr. about why he put a deadbolt on his door
After unlocking his deadbolt with a key on his key chain, Jesse decides to get back the other key by telling his father of the key theft under the lie that Jeffrey deadbolt the lock on the door. His father intrudes Jeffrey's room and destroys his PS4 controller. Things take a turn when Jesse is lashed back after finding out the lie.
A Terrible Mistake
Jesse, after making his father angry the previous day attempts to make amends with him by doing a QnA video, requested by fans. However, when doing the QnA, Jesse's substandard behavior forces Jeff Sr. to cross the line and lash out at Jesse.
Despite Jesse's pleads, Jeff Sr. denies to come back to the QnA after being embarrassed on film.
Operation Pitfall
At this point, Jesse wanted to get Jeffrey back for all his pranks, so he decides to steal his Batman statue for his plan. He then got his father to use the backhoe to dig a hole, and then having Uncle Larry teaching him on how to tie the statue and finally, he ties the statue on top of a tree branch. He then convinced Corn to be in the prank and fill in the hole. On the day of the prank, Jesse takes Jeffrey to the hole where the Batman statue is. While Jeffrey knows about the hole, he tries to get the statue down with a rake, leading to Corn pushing him down the hole.
Second Eviction from the Ridgway Household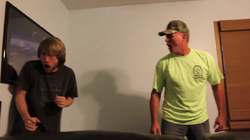 On September 11, 2015, while Jesse and Larry were setting up an introduction for a livestream, Jeffrey Ridgway Sr. orders Jesse to unlock his door. Despite saying that he will let him in in 10 seconds, Jeff Sr. busts down the door and trashes his table, his girlfriend's gifts, various posters and his TV. Jesse quickly learns that Jeffrey Ridgway Jr. was the mastermind of this attack, with his father as a pawn as revenge for the pitfall prank. Jeff Sr. orders him to pack up "in 10 seconds", as this is another way of saying that he was banished after manipulating his family to turn on his brother. Struggling to pack, Jesse and Larry leave the house. During this, they encounter Theresa Abraham-Ridgway, whom Jesse begs to defend him, but even she was mad after she was set up by her son. Larry drives away with a crying Jesse.
Misunderstanding
A few days after being kicked out, Jesse manipulated Tom to film Jesse covering Jeff Jr.'s 2006 Dodge Charger with plastic wrap. This leads into a fight with Larry, who is ordered by Jeff Sr. to kick him out of the house. Larry also reveals Jeff Jr.'s plan to put BigBrudda T-Shirts on the market. Jesse leaves his 1,000,000 subscriber Play Button that he received a day after he was "kicked out" and walks away from Larry, now having everyone in his family against him. Or so he thinks. The next day, Larry posts a plea to Jesse on his channel, stating he didn't kick Jesse out, and never would.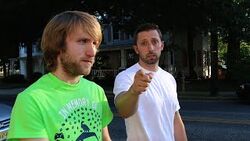 Under the belief that he was betrayed by Larry, Jesse calls out Zachary Cornatzer, a friend he can truly rely on to pick him up. Jesse takes shelter in The Cornatzer Residence sleeping in Bethany Cornatzer's room, who was at college. Jesse and Corn gather equipment & supplies for an upcoming stream.
The next day, Jesse makes a daring move to confront his mother and Larry about the BigBrudda T-Shirts, worried that they wouldn't sell and be a blow (despite the fact that his mother & Larry were OK with the idea). Larry attempts to explain the truth about him saying to leave the house, but Jesse doesn't listen. Jesse takes with him after a new Eagles Landing T-Shirt.
The following day, Jeffrey Ridgway Jr. comes to visit him about the BigBrudda T-Shirts. While Jesse still believed that the shirts would be a major turning point in the shop, He and Jeffrey reached a point that Jesse would be allowed in the house if the revenue was dropped down from 30% to 5% and advertising the shirts on Jesse's next stream.
Return
On September 19, 2015, Jesse and Corn returned to Larry's house, only to find out that Jesse's family arranged a meal for them, despite the fact that Jesse felt uncomfortable being there. The family ate while Corn filmed. Larry called out the family to bring Jesse back in after Larry feels that he is partly responsible for Jesse's second banishment. The family one by one stood up to bring Jesse back in -  even Jeffrey Ridgway Jr. - and everyone did agree with the exception of Jeffrey Ridgway Sr.. Outnumbered, Jesse was taken by Jeff Sr. to his car, where Jesse seemingly was allowed back into the house again.
Second Banishment Aftermath
After being allowed back in for the second time, Jesse had to fix his posters - previously smashed in Psycho Dad Busts Down Door - and also had to cope with using a dog gate for his door until one could have been installed. At the same time, Zachary Cornatzer's social media accounts became compromised by a hacker, as well as Jesse's phone numbers. Jesse managed to get his 1,000,000 subscriber Play Button back and after a brief argument, reached a compromise to hang it in the family living room.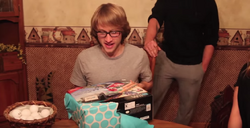 Birthday Week
On September 27 2015 At his early birthday party, Jesse was gifted a Wii U from his mother (despite two prank gifts from Zachary and Jeff Jr.), much to Jeffrey Ridgway Sr.'s annoyance after singing Happy Birthday. He gets furious when he sees the Wii U gamepad - he mistakes it for a computer - and throws the console at a tree after hurling it at a glass door. An emotionally injured and enraged Jesse spends the night at Corn's house.
Door Replacement
When Jesse's actual birthday arrived, Larry and Jesse go out to get a replacement door for his birthday. The following day, Jesse gets suspicions of Jeffrey Ridgway Jr. when he went quiet about the BigBrudda shirts. This leads to an argument until Jeffrey Ridgway Sr.  handed Jesse his monthly bill, but he was angry when he saw that it was overpriced. This was due to the events of Psycho Kid's Birthday Bash, which led to another argument.
Construction in the Morton Building
Read more at CONSTRUCTION SERIES!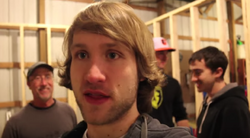 After being granted the overpriced monthly bill by Jeffrey Ridgway Sr., Jesse decides to move into the family's morton building just yards away from the house, having permission from his father, who wants no part of the construction and takes it as Jesse's responsibility. The next day, Jesse hires Larry, Corn & friends Mark Locuson (builders) and Buzz Simkins (electrical handyman) as his construction team (dubbed the RiDGiD Construction Crew), who goes underway into construction. Jeffrey Ridgway Jr. enacted revenge for using his truck without permission by graffiting the floor, but Jesse managed to erase it. Halfway through construction, he watched his subscribers rise to the 2 Million milestone, having Barium Salute to celebrate. Nearing the end of construction, Jesse, Mark & friend Parker have an "Epic Paint Fight" while coating the walls with color.
Destruction of Jeffrey's Motorcycle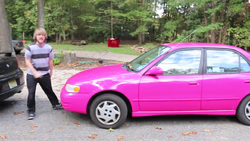 On October 13, 2015, after seeing the MCJUGGERNUGGETS CAR PRANK [1], Jesse flew into a fit of rage after seeing his car being painted fuchsia - Jesse describing it as hot pink, but Jeffrey confirmed it was fuchsia - and proceeded to run into the woods, telling Corn not to follow. He was next seen in the process of refilling the hole, last seen during the Pitfall Prank, during which he tells Corn to call Mark. Reluctantly, Corn and Mark are forced by Jesse to move Jeffrey's motorcycle into the hole. Despite their reluctance, they do so as Jesse berates them the entire time. After the deed is done, Corn and Mark leave.
Fan reactions to this debacle were fairly consistently negative, with the video receiving more than 30,000 dislikes (with only a little more than 11,000 likes), and the McJuggerNuggets YouTube channel going from roughly 2,032,500 to 2,025,181 subscribers in just five hours.[2]
A day later, he was down to nearly 2,018,000 subscribers from the same video. 
Threatened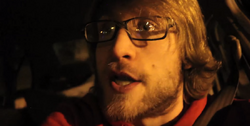 "The clock is ticking: You have one fucking hour."
"The "clock is ticking"? What does that even mean?"
―Jeffrey Ridgway Jr. & Jesse Ridgway
While enjoying his time with his girlfriend, Jesse was contacted by Jeffrey and was threatened to apologize to him in person within the hour for the motorcycle destruction or else he would destroy his room. Despite having a small belief that he was lying, Jesse immediately had no choice but to leave his girlfriend's house for the safety of his Morton Building. He drives at high-speed and manages to make close timing arriving at The Ridgway Residence. When Jesse goes to investigate the room, he is locked in by Jeffrey, revealing that he set him up & wanted to give him what he deserved. Jesse bared with the items inside while having no access to Wi-Fi & was rescued by Larry and Corn the next morning. Since then, the crew resumed construction, despite a minor feud with Jeffrey. On October 24, the crew wrapped up construction and started to add furniture.
Attack of McJokerNuggets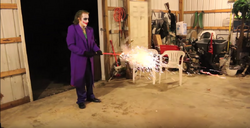 On Halloween's Day 2015 (October 31st, 2015) One day, while working, Jeffrey comes in and tells that he has planned a party for Halloween night. Although Jesse does state not to go near his room, he loses and the conversation ends when Jeffrey taunts him about not working at all. A few days later, it is postponed to the previous day on Friday.  On Friday, Jesse (in The Dark Knight Joker costume) had Zachary Cornatzer (in ear of corn costume) film him troll Jeffrey (in Batman costume). This backfires and Jesse retaliates with fireworks. However, Jeffrey Ridgway Sr., dressed as The Incredible Hulk, appears and sabotages the party. Jeffrey, angered, graffitied a orange dick on Jesse's room. Jesse attacks Jeffrey, but is quickly overpowered. Theresa Abraham-Ridgway appears and is in distress of the events. Jesse is left to clean up of the mess that had just ensued.
McJokerNuggets Aftermath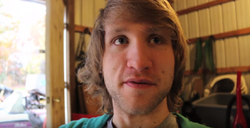 Just after the party, Jesse realizes that there is a hole in the wall of his newly-built room, which he believed that Jeffrey was the one responsible. He has Zachary Cornatzer and Larry Abraham fix the hole - the room is officially finished. Jesse does express interest in a gaming crew he would liked to establish. 
While doing a laxative prank on Jeffrey Ridgway Jr., he has Corn escorted out of Jesse's room for an upcoming prank that he describes as minor and harmless. Corn reluctantly accepts to take part for $500 and lies to Jesse saying that the two had concerns over streaming. Jesse would later confront Corn about the prank after watching DEAL WITH CORN.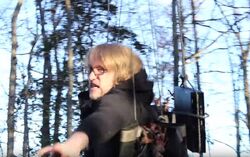 On November 16, 2015, Jesse and Corn are about to film a Fan Mail, when all of a sudden, Corn starts acting very suspicious. Corn asks Jesse to come with him outside. After approaching The Pit, Jesse sees his PS4 hanging above. Jeffrey Jr. emerges from the busted door. Jesse tries to retrieve the PS4, but Jeffrey Jr. activates the pulley system revealing a trap, engulfing Jesse in the tarp. After much begging, Jeffrey Jr. tells Jesse that he wants him to replace his motorcycle after it was flooded in the very pit Jesse was trapped above. Once Jesse agrees to buy a new motorcycle for Jeffrey Jr., Jesse is let out of the tarp. Attempting to peacefully walk away, Jesse continues to be taunted by Jeffrey Jr. Once Jeffrey Jr. knocks Jesse's glasses from his face, Jeffrey Jr. stomps on the glasses. This lividly causes Jesse to snap, and wrestle Jeffrey Jr.. Corn, now on Jesse's side again, tackles Jeffrey Jr. off of Jesse, providing enough time for Jesse to escape. Corn cannot escape Jeffrey Jr., so Jesse takes one of Larry Abraham's littered Corona bottles and shatters it against Jeffrey Jr.'s head, knocking him unconscious and saving Corn.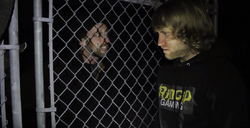 Immediately picking up where "Operation Nameless" left off, Jesse and Corn drag Jeffrey Jr.'s unconscious body into the nearby dog cage. The two initially argue at first, but after hours of silence, Jeffrey Jr. finally decides to have a serious conversation. Jeffrey Jr. revealed that his father had forced him to do things he did not want to do for his whole life, therefore making his life miserable. He also told Jesse that he wanted to film as a career, and not be an accountant, which also was forced to do by his dad. After the deep conversation, Jeffrey Jr. is then released from the dog cage, and peacefully walks into the house.
Parents Separated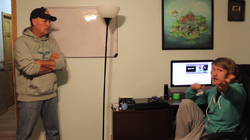 After being shattered with the bottle, Jeffrey had a change of personality and grew quiet throughout the following days. When Theresa Abraham-Ridgway confronted him, Jesse denied the information and used many excuses, such as getting drunk during a New York trip. Jeff Sr. overheard the conversation and also confronts him - Jesse still doesn't give up what happened to Jeffrey. Presumably off-screen, Theresa confronted Jeffrey and eventually found out that he was hit in the head with a beer bottle.
"Please, think about this! I know it's a heat of the moment, I know it's intense, I've dealt with this shit too! Please! Take me with you!"
―Jesse pleads to go with Theresa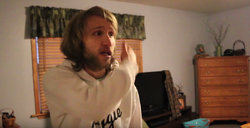 On November 25, 2015, while off-screen, Jeffrey Ridgway Sr. managed to find out what happened to Jeffrey Ridgway Jr. via Theresa, and in turn, smashes many items Jesse's room. This leads to a heated argument with Theresa and Jeff Sr., which ends with the latter pushing Jesse into a lamp, smashing his TV with a hammer he obtained through fan mail, and leaving the room. He then proceeds to shatter Jesse's car window with a baseball bat, and at this exact moment, Theresa snaps and declares that she wants a divorce, despite the pleads of Jeff Sr. and Jesse. All packed up, Theresa leaves. Jesse attempts to chase her before giving up and sobbing on the driveway.
Mother and Son Reunion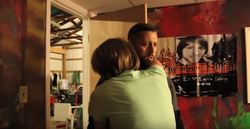 Some time right after Psycho Mom Divorces Husband, Jesse is in his destroyed room looking at his broken things and items on his shelves. Jeffrey Ridgway Jr., returning from a gym workout arrives in his room and is confused of the destruction. Jesse goes to hug his brother and tells him that his mother legitimately broke up with Jeffrey Ridgway Sr. & will divorce when they sign the paperwork. The following afternoon, Jeff Jr. and Jesse have Thanksgiving dinner with Jeff Sr. with his side of the family - Jesse is forbidden to capture footage of it. After Thanksgiving, Jesse has an idea to go celebrate a second Thanksgiving at The Abraham Household the following night.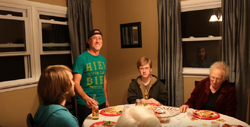 Jesse and Jeff Jr. drive to The Abraham Household and find that Theresa went into hiding there. The two brothers meet again and hug it out. Jesse asks her if there is a possibility that she could not divorce and stay with Jeff Sr., but she responds that the chances of that happening were slim, saying that Jeff Sr. gets angry when she interferes. The two have a deep conversation about where they are going to be after, which Jesse confirms that he will move out during mid-January 2016, as told before in a QnA video. After the conversation, Thanksgiving dinner was prepared and the family (excluding Jeff Sr.) and relatives start eating.
Computer Repair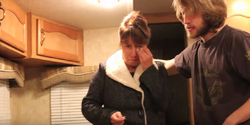 After a couple of Days at Larry's Jesse mentions to Uncle Larry about moving her sister temporary into the RV and so they go ahead with that idea. Jesse and Zachary Cornatzer return to The Ridgway Residence after going out for something to eat to find Jeffrey Ridgway Sr. throwing various pieces of clothing belonging to Theresa Abraham-Ridgway onto the front lawn. Jesse and Corn attempt to stop him from destroying her computer tower, but it is too late as it has been destroyed with a log splitter. Luckily for Jesse and Corn, with the help of Tom and Larry Abraham, they manage to recover the hard drive, where most of the information is kept. Jesse shows Theresa the hard drive, but only gets a saddening response - she reveals that she has been invited to stay with her friend and Jesse's non-biological aunt Melissa Sherman-Stahlberger.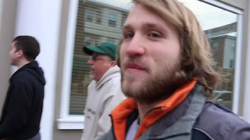 Dedicating to still fix it, Jesse visit Corn's dad John Cornatzer to help fix the drive, but ultimately finds that it was twisted. Jesse, Corn and Larry go to the computer shop in a second attempt to find the drive's status, but the worker said that it was a possibility that it was destroyed - a few minutes later, it was confirmed that the damage the log splitter caused destroyed the drive.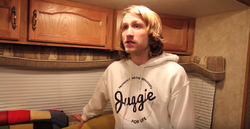 One night, Jesse went to see Theresa Abraham-Ridgway at The Abraham Household only to find her drinking wine with Melissa Sherman-Stahlberger in Larry's RV without permission. Melissa starts to insult Jeffrey Ridgway Sr., prompting Jesse to defend him, despite the fact that he has destroyed a majority of his belongings. Jesse finds Larry Abraham and the two return to the RV. Jesse points out the possibility that Jeff Sr. could change, but the two had trouble understanding since they were drunk - Melissa continues to insult the Ridgway family, but is forced to apologize after attempting to take Larry's wine. Ultimately, Larry and Jesse leave the RV after Larry backlashes Melissa.
After Jesse lied to his mom about Jeff Sr. wanting her back, she decided to stay with Aunt Melissa and eventually began to change Theresa's personality by drinking and having parties almost every night. It reached a point where she is now cold and arrogant towards her son instead of being supportive and loving like she used to be, beginning a whole slew of problems between Melissa, Theresa and Jesse.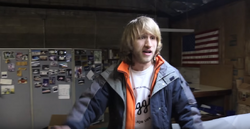 On December 21, 2015, Jesse decides to go to the Juggies Store to overview a new shirt design that Theresa made. When he arrives, he sees Larry Abraham making final preparations for the concurrent Christmas sale. When he sees the newly-designed "Anti-Juggie" shirts, Jeff Sr. arrives and talks out the future of his relationship with Theresa. When she confirms that she is never coming back and the relationship is over, Jeff Sr. goes in a fit of rage and throws his roses that he gave to her, flips two tables, destroys the equipment and ruins the clothing. Larry returns back with a pipe in hand and threatens him out of the warehouse. Jesse and Larry insist that Theresa should call the police, but she reveals that she still cares for him and that the cops will not solve anything.
Compromised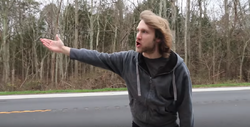 One day, on their way to Aunt Melissa's, Jesse and Zachary Cornatzer were followed by a pickup truck. Jesse opened the possibility of it being Jeffrey Ridgway Sr., but shrugged the idea. However, as the vehicle came closer, the two found out that it was indeed Jeff Sr. and was forced to take a detour to McDonald's (the location Jesse had said to Jeff Sr. before his departure). After spending nearly two hours in the McDonald's parking lot with Jeff Sr., Jesse finally had left and managed to evade his father for a limited time before he caught up with the duo. Jesse was forced to pull over and confront him, in which they make back to decent terms.
However, the following day after a visit to Uncle Larry's, they encounter Jeff Sr. going to his truck. When Jesse questions him, his father responds that he knows where Theresa Abraham-Ridgway was staying. Despite Jesse's pleads, Jeff Sr. drives off to The Stahlberger Residence, with Jesse just preparing his vehicle and gives chase.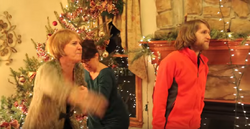 Fortunately, for Jesse, he was the first to arrive and warn Melissa and Theresa of the coming attack. It wasn't shortly that Jeff Sr. arrived and attempted to talk to his wife: Melissa comes to her defense and faces off Jeff Sr.. Eventually, Jeff Sr. finds Theresa on the upper level and after a big argument, which results into harming Melissa by throwing her into a Christmas tree, Jeff Sr. exits. Jesse attempts to stop him, but Jeff Sr. evades his words of action and leaves. The remaining three converse about the recent attack and manage to recover, despite Melissa gaining a bruise.
Deciding to Move Out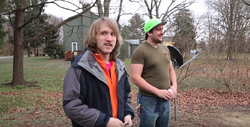 Earlier on in 2015, Jesse stated that he wished to move out from his father's home. In early January, he learns things about home ownership from Mark and Buzz and begins to worry a bit. Jesse also learns of a spare home that belongs to Aunt Jackie, and believes that it would be a good place for his mother to live at. Although, she doesn't feel the same about as Jesse, as it needs work. Jesse decides that if Theresa won't live there, he will instead if he denies Buzz's house.
Buzz's Offer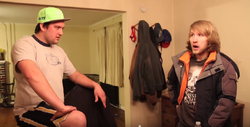 Things get complicated when Buzz calls Jesse to inform him that he is selling his house. Jesse is shocked by the news, and he is forced to make a decision when Buzz offers the house to him at a reasonable price. Jesse goes back to back on which house would be better: Buzz's or Aunt Jackie's. Jesse consults Larry about it, and they create a pros and cons sheet and decide that Buzz's would be better.
Jesse goes to visit Buzz once again to talk about the house. They take a tour once again and they talk about the house some more. Jesse is still undecided, but by the end of the night he is about 80% sure that he wants Buzz's house. The only problem is that Buzz wants the money by Wednesday, which Jesse thinks is ridiculous.
Making the Final Decision
The next morning, Jesse begins to worry about buying the house, and begins to doubt his decision on buying Buzz's house. He goes to see Larry again, and they discuss it a bit more. The topic then moves to Aunt Jackie's house, and Jesse decides that he wants to fix it up. He and Corn proceed to go to Lowes looking for hot water heaters. While at Lowe's, Jesse thinks for a moment and comes up with his final decision: he wants to own Buzz's house. He and Corn then leave Lowe's empty handed, stating that "We did this before". He decides to give Buzz the money the next day.
The Last Straw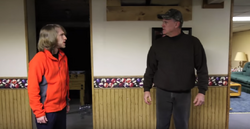 Ready to give Buzz the 30,000 dollars, Jesse goes out to get the reactions of both his father's and his brother's. Jesse has a brief discussion with his father about moving out, then Jesse goes to Jeffrey and they have a small argument over something Jeffrey said in a previous video. Their father comes down the stairs, then Jesse argues with him, giving away the fact that he makes money off of his father, which causes him to flip over a cabinet, revealing a safe. Jeff Sr. snatches the money from Jesse and locks it in the safe before going upstairs into his room. An infuriated Jesse is held back by his brother. Acting calm, Jesse then writes "CYA" on a board, indicating his escape, and runs upstairs, with Jeffrey chasing after him.[30]
Read more at HAUNTED SERIES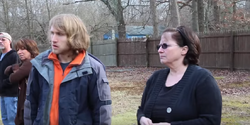 Since Jesse's $30,000 was locked away by his father, he has no other choice but to accept Aunt Jackie's offer. Jesse, Jackie, Zachary Cornatzer, Larry Abraham, Theresa Abraham-Ridgway and Melissa Stahlberger arrive at the spare house but Melissa protests about the damages inside the house. Altogether, they notice that the house needs to be repaired, as there are ceiling stains, mold, chipped wood, etc. Jesse also notices a styrofoam mannequin head in one of the bedrooms, which Larry dubs Emma.[31]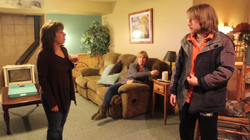 Jesse, Corn and Larry, with the help of Jackie and her husband Chuck move the furniture out of the house.[32] All the while Theresa is depraved by Melissa - Jesse attempts to persuade his mother out of Melissa's drinking habits, going up to calling Melissa a dumb cunt for corrupting her. Before this, however, Jesse does manage to find some information about Jeff Sr's safe with the stored 30 grand, but fails to find a combination for the lock, having attempted to decrypt the code before.[33]
Paranormal Conflict
During construction, Jesse notices some peculiar things around the house, including a scribbled piece of louseleaf and some books concerning Jesus. Prior to this, Jackie reminded Jesse that somebody had died on the property. All of a sudden, the lights turn off and Larry traces it to a power box being shut down. Jesse assumes that somebody was toying with them.[34]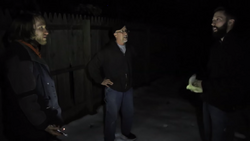 Jesse finds a figure in an anonymous mask and manages to catch him before he can escape. To everyone's surprise, the figure is turn out to be Jeffrey Ridgway Jr. and assumes him as the one responsible for the events before they go back to construction. When Jesse is vaccuming the floor, he notices a second masked figure staring at him. Jesse alerts Larry and Jeff Jr. before noticing the man walk out of sight. Jesse traps him inside the basement before Uncle Chuck reveals himself to have also been responsible for the events. Despite suspicions, it is revealed that Jackie had no part in the hauntings.[35]
Losing his House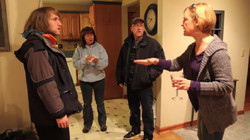 Jesse's mother contacted him about her thoughts about moving into his house due to the fact that she had grown tired of Melissa Stahlberger's drinking habits. Upon arriving with Larry Abraham, Jesse speaks to Melissa. Melissa is angered by the fact that Theresa would want to leave her house and attempts to convince her to stay. When this backfired, Jesse and Larry stated that she would only want Theresa to stay for her selfish reasons. Jesse and Larry left knowing that Theresa had finally made her decision to leave Melissa. [36]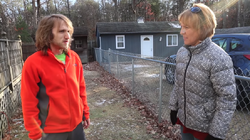 Jesse and Larry cleaned the house and helped move Theresa's belongings into the house, but everyone was continuously vexed by Melissa. Melissa warns that she would be in thrall to Jesse, but is scared out of the house after Uncle Chuck fires a hunting rifle.[37] Shortly after she drove off - and written on the windows of the Juggies Mobile, the living situation quickly escalated into an argument after Theresa noticed Jesse's living conditions, explaining that without a code of conduct, Jesse would be forced out of the residence. Against the idea, Jesse leaves the house to his mother.[38]
Jesse drives home and gets confronted by Jeffrey Sr. who lectures him about how getting his own place didn't work out. Later, Jeffrey Sr. cleans out Terry's belongings and finds a load of Jesse's fan mail piled up in the storage room. He reads through Jesse's personal letters, which were mostly disrespecting Jeffrey Sr. He orders Jesse to get rid of the fan mail or he would take care of it himself. But Jesse was set to do a livestream with Jeffrey Jr. that night, so he tells Jeffrey Jr. that he can't stream with him as he has to take care of the fan mail that Jeffrey Sr. found and ordered him to take care of. But Jeffrey Jr. threatens to beat the shit out of Jesse if he didn't do the stream with him that night, leaving him no other choice. He does the stream with Jeffrey Jr., but the next day, he discovers all of his fan mail gone and sees Jeffrey Sr. outside trying to burn it all up. Jesse tries to stop him, but Jeffrey Sr. burns it anyway. The next day, Jeffrey Sr. goes to the post office to close out Jesse's P.O. box, leaving Jesse no other choice but to cease his Fan Mail Mondays.
Looking for Job Opportunities
Read more at ODD JOBS SERIES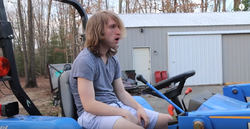 Jesse, in an attempt to impress Jeffrey Ridgway Sr. decides to clean up a pile of sticks with his backhoe so his father would not have to. However, having little experience with the backhoe, Jesse ends up wrecking a nearby woodchipper owned by his father. When Jeff Sr. returns from a ride on his bike, Jesse is berated and yelled at for destroying the woodchipper, concluding that he never should have helped.
Jesse and Jeff Jr. think it is a good idea to prank their father by saying that Jesse had found a job as a drywall finisher. After Jeff Sr. demands $300 for the destroyed woodchipper, Jeff Jr and Jesse initiate the prank. When they reveal that he has a "job", Jeff Sr. hugs him and says that he is proud of him. However, when Jesse hesitates to answer if he was pranking the latter, Jesse is forced to reveal that it is a prank.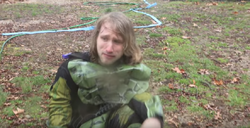 While filming a skit, Jesse finds Jeff Sr. destroying his video games in a second woodchipper and says that he will continue to do so unless Jesse gives in to get a job - despite Jesse saying that YouTube is a job. After Jeff Sr shreds his Wii U and the GamePad that comes with it, Jesse promises to his father to find a job when Jeff Sr threatens his PS4 next. Jeff Sr gives Jesse one week to find a job or consenquences will follow.
Two days later, Jesse builds up a resume and has Larry Abraham review it while doing a mock interview, finding many errors in the process. After the mock interview is finished, Jesse gains a chance of getting a job when Larry gives him an opportunity to work at A&J Canvas: Jesse accepts.
Job Hunting
Over the course of a few days, Jesse struggles with his new job, having made an upside-down shirt but expressed satisfaction in it, offering to sell it. When Jeff Sr. learned that Jesse was hired by Larry, he forcefully made Jesse resign and choose another job. Jesse reunites with RJ, one of his old high-school friends and got a job at Herbalife. However, his spleen supposedly prevents Jesse from doing exercise. Jesse is given an opportunity by Joe to babysit his two children Jameson and Carson and does a decent job, but with Joe having issues with the filming, Jesse is forced to work someplace else. He struggles with the next few jobs, including at a farm where he disobeys the farmer's instructions, leading to him getting fired. Jesse makes an attempt to work as a barber but fails to be eligible for the cut when he ruins his Aunt Jackie's hair. Georgie Stahlberger gives Jesse an opportunity last-minute at a glass company, but is fired after he shatters $2,000 worth of glass.
The first week is finally up and Jesse still doesn't have a job. Jeff Sr. confronts him and when learning that he doesn't have a job, he grabs a game controller and throws it on the ground. Jeff Sr. gives Jesse one more week before he will find him a job, although he warns him that he won't like it. On the second week, he tried out for being an electrician with Buzz and an ice cream man at Toni's Treats, but did not work. Jesse applied for a pizzeria, but the business didn't allow the camera. Jesse explains that he took down the vlog THE ICE CREAM MAN! because Toni's Treats had gotten negative reviews from Jesse's subscribers because he was an employee there. The owner of the pizzeria informed Jesse of this, as he was in touch with the parlor. Because of this, Jesse was turned down for the pizzeria.
An Unwilling Final Option
Read more at FARMING SERIES
The second week is up, and Jesse is confronted again by his father, who had learned of his bad reputation in his previous jobs. Jesse asks to give him more time, but Jeff Sr. declines and explains that he had someone that will get him a job. To Jesse's surprise, this someone is revealed to be Jeff Sr.'s brother Chris, who has an abusive and rough relationship with Jesse - Chris also accuses Corn of being gay and homophobic. Jesse is reluctant to work with Chris and vice versa, but Chris eventually forces Jesse to work with him at a farm if Chris' boss Anita allows him.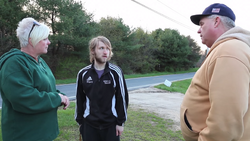 The following day, Jesse is hired into the farm that Chris works at and is given a tour of the land. Jesse states that he will try his best to work there, but is hesitant to do a variety of things on the farm, much to Chris' dismay. Chris later learns that, despite being told that the camera they used to record the footage of the farm was off was in reality on threatened Jesse. The filming causes conflict between Jesse and Chris, until they come to a compromise. However, Jesse betrays his part of the bargain and continues to film at McCann's.[39]
On a snowy Saturday afternoon, Jesse makes an attempt to have Jeffrey Ridgway Sr. play video games with him, but ends up having his Xbox One shot by Jeff Sr. after his anger increases when getting killed in Halo.[40] The following day, a brief struggle with Zachary Cornatzer and Chris Ridgway ends with Corn leaving the farm. Jesse asks him several times to come back - Corn denies the multiple offers, but comes back after getting bored at his house.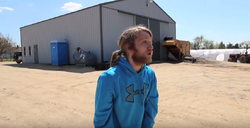 Over his work periods, Jesse deepens his friendship with Anita, Chris Ridgway' boss and mentions that she bares similarities to Theresa Abraham. He is sent off to Casper's Nurseries, LLC by Chris, managed by Warrior but is kicked out after Jesse damages Warrior's truck with a tractor. Jesse is given the role to take care of some of the animals, including the pigs, goats, chickens, et cetera. Meanwhile, Jesse's relationship with his girlfriend is fractured as Jeffrey Ridgway Sr. forbids her to return to The Ridgway Residence.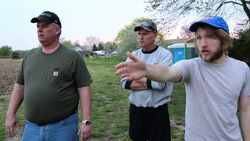 With the aid of Anita, Jesse learns to spork the fields and plant seeds. Jeff Sr. comes to the farm and evaluates Jesse. As Jesse's relationship with Chris begins to improve, Jeff Sr. installs a gate blocking the driveway to prevent Jesse's subscribers (dubbed "Juggies") from entering his property. Theresa comes back to the house to confirm her divorce with Jeff Sr. and bids farewell to Jesse. Jesse comes to a realization that he favors his YouTube hobby more than being forced to work and ultimately decides to quit his job.
Quitting the Farm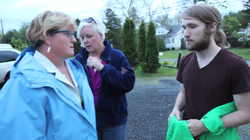 Jesse tells Anita and her sister Nancy about his plans to resign from McCann's Farm, wishing to continue doing YouTube as his mainstay job, doing skits and such. The McCann sisters agree to Jesse's departure and takes part in a Tuesday dinner as Jesse's final moment at the farm with Anita, Nancy, Chris Ridgway and Joey, a kid who works with the chickens on the farm. Jesse introduces Anita and Nancy to their very own YouTube channel based on the farm before he would leave. Jesse manages to pay off the money for Warrior's pickup and gives it through Chris.
Jesse left no mention of leaving McCann's to Jeffrey Ridgway Sr. and fears of the consequences once he finds out. He hides in his gaming room in the Morton Building and played video games during the time he would normally work - he narrowly avoids being caught by his father when he enters the Morton Building.
The Truth Uncovered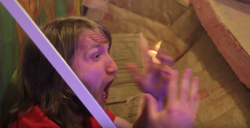 Eventually, Chris Ridgway contacted Jeffrey Ridgway Sr. and explained that Jesse had quit his job at McCann's Farm. Infuriated, Jeff Sr. drove his backhoe into Jesse's Gaming Room inside the Ridgway Morton Building with Jesse and Zachary Cornatzer still inside. The PS4 giveaway that Jesse planned to announce the winners at during the stream was interrupted when Jeff Sr. destroyed the gaming room, Jesse's television and the laptop used to stream the giveaway. Fortunately for Jesse, he managed to recover the PS4 giveaway consoles, salvaged the remaining fan art and escaped the wreckage.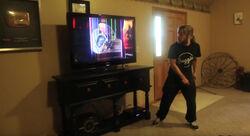 Saddened by these events, Jesse exited The Ridgway Residence and drove to Larry Abraham's house and told him of the recent events. Larry advised Jesse to stay with him and take residence in his RV. The following day, Jesse arrived to the remains of his room and took what was salvageable, as well as Jeffrey Ridgway Jr.'s laptop and Jeff Sr.'s revolver before destroying his father's TV with a fire pick.
On the Run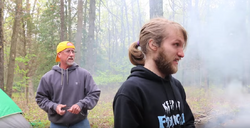 Jesse and Larry's RV (later dubbed The Wingless Eagle) are taken to an undisclosed location, where Jesse will be staying at for that time being, until he saves up for his own place. A few mishaps occur, including being kicked out of Walmart and receiving a call from Jeffrey Ridgway Sr., who demands for his location, but Jesse refuses to tell any information, regardless. After searching the woods, it was revealed that the RV was parked behind a neighbor's house.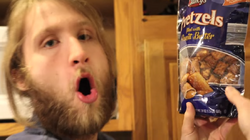 The neighbor's house is revealed to be the Stahlberger's residence. Melissa Stahlberger finds that Jesse has been living inside an RV in her backyard through the noise of his power generator and confronts him of this, smashing a mirror and attempted to destroy a microwave in the process.[41] Jesse decides to steal food from the house and successfully escapes, despite a confrontation from George Stahlberger mid-theft.[42] After dressing up for his girlfriend's prom dance,[43] Jesse and Zachary Cornatzer invite Larry and Jeffrey Ridgway Jr. for a campfire outside the Wingless Eagle.[44]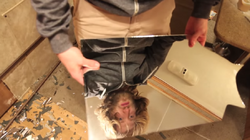 Over the course of his stay in the Wingless Eagle, Jesse begins to talk to Demma, a merged statue based from Damien and Emma the Styrofoam Head. Jesse replaces his generator with some electricity cables for a power source. That same night, Jesse is confronted by Melissa again, who proposes a deal to allow him to stay for a monthly fee of $1500. When Jesse declines, Melissa searches the RV, finding the previously stolen food items and Jeffrey Ridgway Sr.'s stolen gun, threatening to call him after finding the firearm. After an argument, Melissa destroys Jesse's television.[45]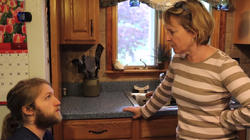 The following day, Jesse witnesses a brief argument between Larry and Melissa.[46] Tired of Jesse staying at her house, Melissa threatens to call Jesse's father. Jesse, in an attempt to induce Melissa's rage contacts Theresa Abraham but despite Jesse's best efforts for her to reconcile as friends with Melissa, Theresa claims that she has started a new life without her. Jesse stops an enraged Melissa from calling Jeff Sr. by smashing her phone with a cookware pot.[47]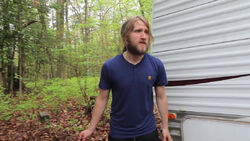 While burying Jeffrey Ridgway Sr.'s revolver with the American flag, his father arrives on his backhoe and, despite Jesse's best attempts to fend off the tractor with his sword is unable to stop Jeff Sr. from destroying the Wingless Eagle.[48] After Jeff Sr. tells him to come back home, Jesse observes the destruction, stunned at the remains and rants at Melissa Stahlberger, deeming her responsible. Jesse, although unwilling at first decides to break the truth of the RV destruction to Larry Abraham.[49]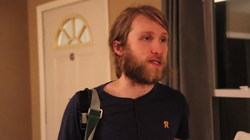 Jesse goes to Larry's house and tells him that his RV was destroyed at the hands of Jeffrey Ridgway Sr.. Although taking the situation calm at first, Larry goes in a fit of rage, destroying a Corona (his signature beer) bottle and flipping a lounge chair and his grill in the process. Steamed and angry, Larry spends the night alone while Jesse makes himself comfortable at his house.[50] The following day, Jeff Sr., having located Jesse at Larry's house orders him to return home with him, despite Larry's best efforts to convince Jesse to stay.[51]
Jesse takes the pool cover off with the help of Buzz, but the water spills off the cover and all over Jeffrey Jr.'s vegetables. Jeffrey Sr. confronts Jesse and Buzz for having electricity close to the pool and kicks Buzz out of the house, while confiscating Jesse's PS4. Jesse tries to apologize to Buzz, but he just gets in his car and drives off. Jeffrey Sr. confronts Jesse about his whereabouts the other night. Jesse says that he went to Juliette's senior party, even though Jeffrey Sr. forbade them to see each other. Jesse tells his dad that he's going to Mark's apartment for the weekend when he was actually going to Juliette's college graduation. He spends the night at Juliette's apartment and they sleep together. The next morning is the graduation ceremony. Jesse nearly oversleeps, but makes it to the ceremony in the nick of time. He watches Juliette walk across the stage and get her diploma and he cheers for her. Afterwards, he has dinner at the after party with Juliette and her family. As Juliette packs her things back at her room, she and Jesse say goodbye to each other. Jesse returns home to the Ridgeway residence and plans to make it look like he and Corn just got back from Mark's apartment. When Jesse and Corn make their way into the house, they talk about Game of Thrones like they watched it at Mark's apartment while Jeffrey Sr. is outside cooking steaks. When Jesse goes into his room, he finds his equipment gone and sees "YOU SHOULD'VE LISTENED..." written on his white markerboard. Jesse goes outside and confronts his dad, demanding the whereabouts of his equipment. Jeffrey Sr. tells him he took care of it by putting it all in storage. Jeffrey Sr. berates Jesse for lying to him before he left and lying to him right now. He goes out to Jesse's car and reveals that he installed a tracker on it. Jesse tells Jeffrey Sr. that it was Juliette's graduation and that rule about them not seeing each other was bullshit. Jesse retaliates by calling Uncle Larry to come and help him. Then Jesse proceeds with a Q/A.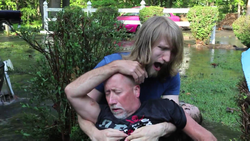 The following day, Larry Abraham arrives at the Ridgway Residence after receiving Jesse's voice mail and convinces him to open the gates. To the surprise of Jesse, Zachary Cornatzer and Jeffrey Ridgway Sr.'s, they find Larry driving full throttle into the pool in an attempt to hit Jeff Sr., although he manages to escape from the path of the speeding vehicle. In the midst of the crash, Jesse pulls an injured Larry out of his truck and takes him a nearby hospital.[52] After dropping him off, Jesse finds Jeff Sr. destroying Larry's truck with his backhoe. Jesse berates his father for not helping Larry and leaving him to die. Under the belief that Jesse had planned this out with Larry, Jeff Sr. takes away his car keys and drives off in the Juggiesmobile.[53]
Imprisonment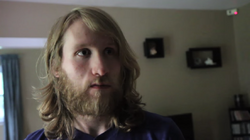 "He has done nothing but give to you: And all you do is just take and yet you have this freakish audacity to call yourself the victim here?!"
"Back the fuck off, no, no, I AM the victim--"
"SHUT UP!!! Just shut up! I'm not gonna be silenced anymore! All he does is give, all you do is take and that just leaves me with stress about him being stressed about you!"
―Tom Abraham and Jesse Ridgway (WHAT I COULDN'T DO...)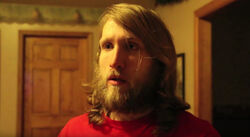 Jesse goes to visit Larry Abraham, who was allowed out of the hospital, but was forced to wear a neck brace due to the injuries sustained in the crash. Larry admitted that he had attempted to kill Jeffrey Ridgway Sr. that day, feeling as if he deserved to die. After visiting him, his son Tom screams at Jesse because of what had happened.[54] One night, Jesse finds his father watching some of the YouTube videos from Psycho Series. Jesse puts the blame of the videos on Zachary Cornatzer, to whom Jeff Sr. lashes at and orders him out of the house. Cornazter leaves Jesse as a result.[55]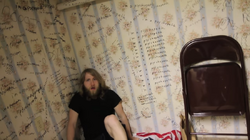 Jesse, feeling ungratefulness apologizes to Cornatzer and the two make amends. With Zach banned from the Ridgway Residence, however, Jesse embraces his inner struggle to film alone without him.[56] After attempting to crack the code to Jeff Sr.'s safe, he is forced to a cramped room in the basement under the rule that he can film only in the space given for a maximum of 45 minutes.[57] Over the days, he begins to lose his sanity, destroying Demma[58] and writing "i'm a psychopath." on the walls, going up to the point that he will stop making videos.[59]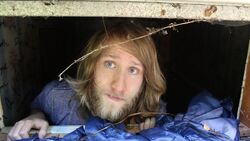 One day, Zachary Cornatzer arrives and breaks the only window in the cramped room, setting him free. Cornatzer makes his appearance on Jeffrey Ridgway Sr.'s house brief as he and Jesse plot the escape. Cornatzer tries to get Jesse not to go through with this because not only does he feel skeptical about the money not being in the safe but also it would mean Jesse not able to see him, their friends, or their families ever again. But Jesse wouldn't listen and still wants to believe the money is still in the safe. Corn and Jesse then say a heartfelt goodbye to each and Corn leaves Jesse a "sandwich and chips" inside a paper bag, although a clunking noise can be heard inside the bag.[60]
Before he puts his plan into function, Jesse calls out his viewers in a "final" video, stating that he will do something that he does not encourage anyone else to do and announces he will be back better than ever before.[61]
"What the fuck, that's what you fucking say? That's the last thing you say to me is that the video games made me this way...the games? No, Dad...it was you!"
―Jesse Ridgway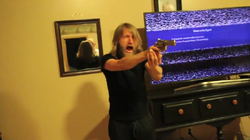 Jesse lures Jeffrey Ridgway Jr. to the closet he had been imprisoned in before he reveals a gun (supplied by Zachary Cornatzer) and points it at his brother, forcing him to film the confrontation between him and Jeffrey Ridgway Sr.. Jesse unplugs the gaming console Jeff Sr. was playing on and threatens him to reveal the safe combination (revealed to be 86-40-12). Despite this, Jesse (angered at the fact that his father believes that the violence in video games have made him what he is) fatally shoots him dead and grabs the money bag before he takes one final glance at a family photo.
Before Jesse left, Jeffrey Jr. reminded him that he had five minutes to leave before he would call the police to arrest him. Jesse drove out of the Ridgway Residence in his father's truck, but only found two bundles of money in the bag.[62] With the remaining money, Jesse booked a flight to Zürich, Switzerland.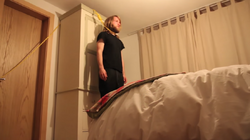 After sightseeing the country, he attempted suicide by hanging himself, due to the death of his father and for all the actions he had committed towards the whole family. Despite his guilt, however, he hesitated. He then filmed one last vlog about his future in Switzerland, stating he will have to finally get a job, while possibly deciding to live deep in the mountains away from everyone. He then emphasizes everyone not to follow his steps, closing it with a final "Do not forget to keep it RiDGiD.".[63]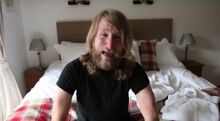 Psycho Kid vs Psycho Dad
At the start of the book it was revealed Jesse has been living in a Cabin in the woods. He is much more of hermit than he has ever been. He states he only goes out for Groceries or Video Games. He does this because he is scared there is a warrant out for Him and he could be arrested anytime. He still has guilt over the killing of his father. it is also revealed Jesse is still Lacking common sense as when he was cooking his stove wouldn't start. So he sprayed Gasoline on the Stove and started a huge fire. To stop the fire he took a deer off the wall and stuck it on the stove resulting in a bigger fire which caused the loss of his cabin. He saved his YouTube Money and bought an apartment. While in line for a new Video Game he witnessed an argument between a father and his young son. Which triggered a Flashback of when His Dad destroyed his DS in London. Jesse told the guy to back off and the dad destroyed the DS which caused Jesse to overact and punched the Father. The father Chased after Jesse up to a balcony Causing his Death. Jesse Later woke up in a colored room similar to the Gaming room in the Morton Building. Uncle Larry later revealed Psycho Dad was alive and Larry was Able to revive Jesse. Larry has been searching for Jesse since the shooting but no luck until The kid from the gaming store Posted a tweet of Jesses Dead body. Larry told Jesse the only way to defeat his Dad was to get three Elixers. But it was all the way in the states so Larry took jesse outside and it was revealed Larry Granted Jesse the Power of flight. The first Elixer was at a gaming convention. Jesse Was so close to grabbing it but Psycho Dad and Jeffery Burst through a brick wall. Jesse after getting pumbled by a Big screen TV thrown by his Father grabbed the Elixer. Jeffery Later uploaded this Video On YouTube. The second Elixer Was in New York. Jesse Got it but Psycho Dad showed up again and viciously Beat him. Jesse tried to Scream like he used to do and it was revealed He was a Sonic scream which sent Psycho Dad Flying allowing Jesse to Escape. After this It was revealed the final elixer was in Psycho Dads blood which caused his hulked out appearence. Jesse returned home to the now poorly Dilapidated Ridgway Residence and was surprised to see His Eagles Landing tent still standing. Jesse went in there and played a game when all of a sudden Psycho Dad turned on his riding mower and Sped towards the tent. Jesse had enough strength to lift up the mower. As Jesse and His dad were ready to Kill Each other Jeffery,Terry,Melissa,Chris and Chuck showed up and Begged Jeff to stop. Jeff Agreed and Jesse knocked Him out and brought him to larry. When Psycho Dad woke up Larry revealed he was Live streaming Psycho Dads killing. but Jesse refused. He destroyed the syringe which made Larry disappointed As he wanted to Be Jesse's Father. Tom than showed up and Revealed he revived Jeff to Get rid Of Jesse because of his jealously of Larry and Jesse. Tom than threw Jesse into a portal Called the Void which Revealed during the final days in the Little Room Jesse almost hung himself. Jesse's new Pet Eagle Talon Rescued Jesse and Talon Scratched toms eyes out and Sent him in the void. Jesse offered uncle larry help to escape but Refused. Psycho Dad Broke out of his bonds and destroyed the facility but was caught under rubble. Jesse rescued Psycho Dad as the building exploded. The returned home and Psycho Dad Forgave Jesse and admitted video Games come in Handy. They hugged.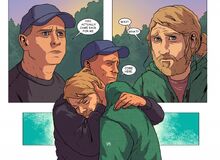 Legacy
Psycho Kid appears as minor later important character in the The Devil Inside Series. As revealed in PSYCHO KID RETURNS!, He would serve as one of Jesse Ridgway's entities, others being Sgt. Jackson. In an attempt to restore his mind to his normal self, Jesse (as Sgt. Jackson) snapped his fingers, resulting his transformation into Psycho Kid. It is evident that after he signed off on video, he went and found himself a cabin in Switzerland, deep in the mountains, where nobody could find him. He also found an original Game boy at a nearby market in Zermatt by the Matterhorn, which he uses to game with. He also tries to escape the Ridgway Residence again after seeing his father's real life counterpart but he (along with Parker) made him snap his fingers and turn Jesse back to normal.
Powers and abilities
Powers
Flight: Powered by Larry's cure, Jesse is able to manipulate his own gravitational field to generate thrust and propel himself through the air, often at hyper-sonic speeds, much faster than he can travel by foot. As such, he is able to levitate and fly away from Psycho Dad and Jeffrey. In the 14th chapter of the Psycho Series Graphic Novel, he can't use this power anymore. 

Accelerated healing factor: Powered by Larry's cure once again, Jesse is enhanced and can heal at serious pain allowing accelerated healing abilities making him practically immune to any cuts. Upon being cut by a piece of metal which sliced the skin of his arm, he healed instantly. But in the end, this power is gone.

Superhuman sonic scream: Using the power of the elixir, Jesse is able to emit a sonic scream that comes from his voice, Jesse's scream is powerful enough to produce enough force to launch a Werewolf-formed Jeffrey, a hulk-like Psycho Dad and other heavy objects back several feet. His scream can also tear a human being's skin after being launched by the scream. With one shout, Jesse caused a tremor that took down a bank and collapsed buildings. He is also immune to her own powers and can control the range of his screams, creating seismic waves large enough to collapse a building. This power was also deprived of Jesse after the events of

Final Showdown

.
X-ray vision: Powered by Larry's cure, Jesse has the ability to see through objects, as seen in

The Gaming Convention

where he could see the Elixir inside the Reacher's Orb. This power was deprived of him after the events of Final Showdown.
Telekinesis: Powered by Larry's cure, Jesse can move and otherwise exert force objects with his mind. This notably allowed him to force the Reacher's Orb, without physically touching it. This power was deprived of him after the events of Final Showdown.
Super strength: Powered by the first elixir, Jesse was granted super strength as he was able to smash through the Liberty torch with ease and carry Psycho Dad's mower and throw it. 
Abilities
Animal care/interpretation: Powered by the second elixir, Jesse was able to perfectly command Talon to do anything Jesse wants him to do, including telling Talon to peck Tom's eyes out. 
Personality 
"I willingly made myself look like a stupid, selfish jackass, who destroyed businesses; who didn't get what he wanted, cried about it, screamed and took off his clothes like a man-child..."
―Jesse Ridgway's description of his Psycho Series counter-part.
Jesse is a lazy undergraduate who has a powerful love for his video games,this is a core source of most of the Psycho videos, leading to either destruction, harm, or a conflict about his video games. When Jesse is offered some help, he would often ignore it since that he is very prideful. Just like his brother and father, he has anger issues, and is very reactionary.
After being kicked out for destroying baseball trophies awarded to Jeffrey Ridgway Sr. decades prior, life outside The Ridgway Residence slowly visits a darker side of Jesse, as he became hellbent on revenge against Jeffrey Ridgway Jr. to the point of being greedy and very manipulative when he used his family to pull a prank on his brother, which ultimately led to being exiled from his house again & when he manipulated his cousin Tom to pull a second prank on his brother, which led to what Jesse believed was a third banishment from Larry Abraham. He has been heavily criticized for his arrogance and behavior towards friends and family by YouTubers but his Juggies still support him because they can relate to what it feels like to be in a family like his.
Despite the immaturity, when he was slapped by Aunt Melissa in A SLAP IN THE FACE!, he handled the situation in a surprisingly mature manner, not retaliating, but instead leaving.
According to Jeffrey, Jesse has a very rebellious side of him and has issues with authority figures (which he admits but states he only has a problem if it's unjustified) as he is very disrespectful towards his father and is hesitant to do things for him. This is likely caused from his father smashing his belongings which has cause him to to hold almost zero respect for his father.
Nearing the end of the series, Jesse was finding it difficult to distinguish reality from fantasy, talking and arguing with an inanimate object which he called Demma and having violent mental breakdowns when residing in the former fan mail room he was forced to record videos in, this was the final straw and ultimately caused his fathers demise.
Jesse essentially became what he had written on the walls of the former fan mail room, and what he called his own father plenty of times: a psychopath.
Things He Has Damaged/Destroyed/Stolen/Vandalised
Victim
Video(s)
Method of Damage/Theft and Reason
Victim's Final Result
Balloons
Psycho Dad Shatters Youtube Play Button
Popped with his hands in frustration.
Burst; disposed of.
Birthday Cake
Psycho Kid's Birthday Bash
Thrown at Jeffrey Sr. in retaliation of his Wii U being thrown at the backdoor.
Rendered inedible.
Christmas Tree
Psycho Kid Torches Christmas Tree
Set on fire in retaliation for not getting what he wanted for Christmas.
Destroyed.
Deer
Minutes prior to PSYCHO DAD'S DEADLINE!
Accidently hit with his car.
Killed.
Doughnut
THE VOLUNTEER!
Took a doughnut from the back of the counter and took a bite into it.
Taken back by employee of the restaurant.
Easter Feast
JESSE CRASHES EASTER!
Invaded.
Some food stolen and eaten by Jesse.

Feast continued as normal.

Electricity from the Morton Building
KICKED OUT (SURVIVAL SERIES)
Stolen via a cable from the Morton Building to Eagle's Landing.
Electricity used by Jesse.
Georgie Stahlberger
THE ULTIMATE APRIL FOOL'S PRANK!
Threw food at him as part of an April Fool's Prank planned for Melissa.
Got himself cleaned up after the prank.
Glass worth about $2,000
THE GLASSBLOWER!
Accidently knocked off the table with a glass tube.
Ruined hiring prospects.

Shattered; cleaned up.

Government issued censorship device
PSYCHO KID RETURNS!
Slammed on the ground.
No longer functions; characters are allowed to swear again.
Jackie Mixner
THE BARBER!
Hair accidentally cut with a razor.
Haircut adapted by Linda.
Jeffrey Jr.
Psycho Family Halloween
Shot at with a Roman Candle.
Unharmed.

Pinned to the wall in retaliation for vandalizing his room.

Jeffrey Jr. overpowered Jesse and pushed him over.

Psycho Brother Stomps Glasses

Tackled to the ground and fought.

Jeffrey Jr. overpowered Jesse, Corn fought him off.

Hit in the head with a Corona bottle.

Knocked out; scars left on the back of his head; recovered.
Jeffrey Jr.'s Batman statue
STEALING BIGBRUDDA'S STATUE!
Stolen from Jeffrey Jr.'s bedroom.
Returned to Jeffrey Jr.
Jeffrey Jr.'s camera
Paintball Prank REVERSAL! (Broken Lens)
Hit with a water balloon.
Lens no longer functioned properly; replaced.
Jeffrey Jr.'s car
PLASTIC WRAP BIGBRUDDA'S CAR!
Wrapped in plastic wrap as a prank.
Freed by Jeffrey Jr.
Jeffrey Jr.'s chicken
Sabotaged as prank.
Eaten by Jeffrey Jr.
Jeffrey Jr.'s phone
BIGBRUDDA'S BURIAL SITE!
Grabbed from Jeffrey Jr. and searched.
Confiscated by Jeffrey Jr. before Jesse could get what he was looking for.
Jeffrey Jr.'s PS4
Psycho Kid Crushes PS4
Stolen, run over using Uncle Larry's truck, hit with a bat and dragged along a road.
Extra damage done by Uncle Larry.
Destroyed.
Jeffrey Jr.'s table
I'M A DEAD MAN!
Accidently run over with Jeffrey Sr.'s backhoe.
Destroyed.
Jeffrey Jr.'s water
THE LAXATIVE PRANK!
Two bottles of laxatives added to it.
Drank by Jeffrey Jr.
Jeffrey Sr.
Psycho Kid Kills Father
Fatal shot to the chest with revolver.
Killed
Jeffrey Sr.'s backhoe and keys
HIJACKING THE BACKHOE!
Keys and backhoe stolen and driven without permission.
Confiscated by Jeffrey Sr.
I'M A DEAD MAN!
Keys and backhoe stolen and used without permission.
Confiscated by Jeffrey Sr.
Jeffrey Sr.'s grill
Psycho Dad Grills Wii U
Flipped over in retaliation of Jeffrey Sr. setting his Wii U on fire.
No longer functions; replacement bought by Jesse, Jeffrey Jr. and Theresa.
Jeffrey Sr.'s trophies
Psycho Dad Grills Wii U
Slammed onto the ground as revenge for Jeffrey Sr.'s actions in previous Psycho Videos.
Most destroyed.
Most remains thrown away by Jeffrey Sr.
Some kept by Jesse.
Some left untouched.
Jeffrey Sr.'s truck
Psycho Kid Kills Father
Stolen.
Claimed into Jesse's possession.
Jeffrey Sr.'s TV
Psycho Kid Smashes TV
Hit with a baseball bat because Jesse believes that Jeffrey Sr. loves the TV more than him.
Screen broken; TV replaced.
CONTROL YOUR ANGER!
Kicked in retaliation for Jeffrey Sr. showing him security footage of Jesse giving him the middle finger.
Screen heavily cracked; TV replaced.
RUNNING AWAY!
Wacked with a fire pick and toppled onto the floor in retaliation for destroying his gaming room.
Destroyed; replaced.
Jeffrey Sr.'s woodchipper
I'M A DEAD MAN!
Accidently hit with the backhoe.
Part of the woodchipper heavily bent out of position.
Jesse Ridgway
21 Shots
Accidently concussed by falling onto a table.
Hospitalised; recovered.
Jesse's clothing
Many videos
Torn with his hands.
All rendered unsuitable to wear.
Jesse's House
A FINAL GOODBYE!
Accidently broken through his bedroom ceiling when trying to get out of the loft.
Major hole in Jesse's bedroom ceiling; last known awaiting repair.
Jesse's lamp
BIGBRUDDA'S BLACKMAIL!
Thrown on the floor.
Destroyed; replaced..
Psycho Mom Divorces Husband
Jesse pushed by Jeffery Sr. into the lamp.
Destroyed.
Melissa Stahlberger
THE SPAGHETTI PRANK!
Jesse and Georgie dumped spicy spaghetti over Melissa's head.
Melissa's lip burned by the sauce, recovered.
Melissa's iPhone
NAIL IN THE COFFIN!
Bashed multiple times with a cooking pot.
Destroyed.
Morton Building
Psycho Family Halloween
Shot a roman candle inside.
No damage to the Morton Building.
Styrofoam Head "Emma"
BURNING AT THE STAKE!
Set on fire.
Completely melted.
Table and numerous plastic cups
21 Shots
Fallen on as part of the video.
Table destroyed and cups crushed. All rendered unusable.
Thanksgiving Feast
Psycho Kid Ruins Thanksgiving
Tables flipped over.
Unharmed.
Pies thrown at Jeffrey Sr.
Rendered inedible.
Treehouse
THE LOSS OF INNOCENCE
Fireworks set off inside the treehouse, causing a fire.
Minor damage.
The Ridgway Residence
Psycho Kid's Birthday Bash
Wii U thrown at backdoor in retaliation of Jeffrey Sr. destroying the Wii U.
Backdoor window shattered; replaced.
LIQUID ASS PRANK!
Invaded and sprayed Liquid Ass all over Jeffrey Jr.'s bedroom as a prank.
Cleaned up by Jeffrey Jr.
I'M A DEAD MAN!
Outside fence accidently run over with Jeffrey Sr.'s backhoe.
Knocked over.
Uncle Larry's RV
Psycho Dad Reacts to One Million Juggies
Door slammed.
Door damaged from being slammed; repaired.
Voro's Plumbing Store
Psycho Kid Gets Arrested
Several items of inventory thrown onto the floor.
Inventory put back.
Jesse banned from the store.
Warrior's Truck
BIG FORKING MISTAKE!
Accidentally drove a tractor into it.
Windows and mirror broken, door dented.
Things He Has Damaged/Destroyed/Stolen/Vandalised
| Victim | Chapter(s) | Method of Damage/Theft and Reason | Victim's Final Result |
| --- | --- | --- | --- |
| Angry Dad at Game Store | From The Ashes | Punched in the face | Angered, chased Jesse to his apartment |
| Psycho Dad | The Gaming Convention | Threw a master chief helmet on his head | Angered, attempted to get it off him |
| Statue of Liberty torch | New York City Cataclysm | Busted through it using flight and super strength | Half-Destroyed |
Known Residences
Residence
Timespan (Dates)
Timespan (Videos)
The Ridgway Residence
c. September 29th, 1992
-
March 31, 2015
N/A
-
Psycho Dad Grills Wii U
Eagle's Landing
April 2, 2015
-
April 12, 2015
Welcome to Eagle's Landing
-
Psycho Dad Flattens Gaming Lair
Zack's House
April 12, 2015
-
April 15, 2015
THE JOURNEY TO PENNSYLVANIA!
-
MY BROTHER'S YOUTUBE CHANNEL!
His Girlfriend's College Dorm
April 15, 2015
-
April 19, 2015
JESSE AND JULIETTE'S DAY OFF!
-
SAYING GOODBYE
The Abraham Household
Uncle Larry's RV
Phoenix Landing
April 19, 2015
-
May 1, 2015
MEET UNCLE LARRY!
-
Psycho Dad Reacts to One Million Juggies
The Ridgway Residence
May 1, 2015
-
September 11, 2015
Psycho Dad Reacts to One Million Juggies
-
Psycho Dad Busts Down Door
Uncle Larry's RV
September 11, 2015
-
September 14, 2015
EMOTIONAL BREAKDOWN! *PSYCHO UPDATE*
-
THROWN OUT OF LARRY'S!
The Cornatzer Residence
September 14, 2015
-
September 19, 2015
CORN QUITS THE PRISON!
-
Psycho Last Supper
The Ridgway Residence
September 19, 2015
-
February 6, 2016
LIKE NOTHING HAPPENED! *PSYCHO UPDATE*
-
MCJUGGERNUGGETS MOVES OUT!
Aunt Jackie's Second House
February 6, 2016
-
February 13, 2016
MCJUGGERNUGGETS MOVES OUT!
-
THE FALLOUT! (PART 2)
The Ridgway Residence
February 16, 2016
-
April 30, 2016
MOVING BACK HOME!
-
RUNNING AWAY!
Uncle Larry's RV (The Wingless Eagle)
April 30, 2016
-
May 13, 2016
ESTABLISHING A BASECAMP!
-
Psycho Dad Rips Apart Trailer
The Ridgway Residence
May 14, 2016
-
June 5, 2016
REINCARCERATED!
-
Psycho Kid Kills Father
Zurich, Switzerland
June 5, 2016
-
N/A
Psycho Kid Kills Father
-


From The Ashes
Relationships
"Get a job!"
―Jeff Sr. to Jesse
Jesse's relationship with his father is permanently damaged and 100% irreparable. Mostly in part to Jeff Sr. breaking Jesse's belongings throughout the course of The Psycho Series. The relationship has mostly been negative as the two never get along. He shows favoritism towards him when he prefers his oldest son over Jesse. The two have argued relentlessly because of the fact that Jesse is more modern in his mindset whilst Jeff Sr. is late a few years. He doesn't believe in Jesse's profession which is YouTube and doesn't believe he can make a living off it.
He has shown to be somewhat abusive when he sometimes pushes Jesse out of the way even going as far as to push him into his nightstand in Psycho Mom Divorces Husband. He also pushes Melissa into her couch then her Christmas tree in AUNT MELISSA FIGHTS PSYCHO DAD!.
He believes Jesse to be too immature for most things such as going out into the real world and even owning a house.
The relationship reached its peak of hostility in Psycho Dad's Drunken Rant when Jeff Sr. blames Jesse for the reason why him and Theresa split up.
Then he stole $30,000 from Jesse's hands in Psycho Kid Moves Out and remarks how he will never move out on his own because he is too immature.
Jesse has stated in WHY A PONYTAIL? | QNA #22 that he believes he will never get along with his father.
In Psycho Dad Demolishes Gaming Room, Jeffrey destroys Jesse's gaming room in The Morton Building with the knowledge that Jesse and Corn were in the room at the time as revenge for Jesse quitting his job with Chris Ridgway, putting their relationship at a point of no return.
The relationship gets even more frightening when Jeffrey Sr. forces Jesse to stay in a room where his fanmail used to be for recording purposes only. He is given 45 minutes to record in his small room after he tried to get his cash back, which didn't help their relationship, and Jesse gets more insane until he gets to the breaking point and kills Jeffrey Sr. in Psycho Kid Kills Father.
In the Psycho Series Graphic Novel, his father has transformed into the Hulk and Jesse desires to stop him by using the power granted by Larry's cure and the three elixirs, In the 14th chapter, A Proud Father, Jeff Sr. says to Jesse that he is proud of him for saving him. And they both give eachother a hug. Showing their relationship has improved a lot.
Before fall 2015, Jeffrey Jr. constantly filmed Jesse when he sees a golden opportunity for a Psycho Video and enjoys humiliating Jesse. Their relationship is further strained because their father always takes Jeffrey's side as seen for example in Psycho Mom Divorces Husband, when Jesse says that he smashed Jeffrey Jr. over the head with a beer bottle. When Jeffrey Sr. found out, he instantly takes Jeffrey's side.
However, Jesse and Jeffrey Jr. are seen on some occasions getting along and working together, while most of the times they are at odds
It was revealed in Psycho Family Therapy, that were much closer when they were younger and used to play video games together, however Jeffrey Jr. revealed that their relationship started to become rocky when Jesse became an Xbox fan, while Jeffrey Jr. started a relationship with Playstation.
It's implied during PRISONER OF WAR! *PSYCHO UPDATE* that Jeffrey Jr. is jealous of Jesse's achievements that Jeffrey Jr. wanted to achieve and never gotten to due to Jeffrey Sr. and Jesse's upbringing during his childhood not exposed to their father's harsh tactics while growing up until he left college.
Ever since his mom left in Psycho Mom Divorces Husband, Jesse and him have grown a lot closer. It shows that in SPLIT THANKSGIVING *PSYCHO UPDATE* when they hug it out. Also showing in ENEMIES CLOSER!, they're getting into an argument about previous events, but have also appear to have repaired their relationship to some degree. Their relationship improved gradually in CONTROL YOUR ANGER! when at the end, Jeffrey told Jesse the he wants to be the brother that he never was and they hugged it out.
Jesse and Jeffrey Jr.'s relationship was completely shattered in Psycho Kid Kills Father after Jesse killed his father and took back his cash, causing Jeffrey to angrily threaten Jesse with the police if he didn't leave within 5 minutes.
"Can't you can't you- Can't you maybe find somewhere else to go Jess?!"
―Theresa to Jesse when kicking him out of his own house.
Jesse and his mother for a long time had the closest relationship until the divorce. On September 11th, Theresa questions if she could defend Jesse any more since he lied to her about the use of 50 foot black rope he got from the Juggies Store, primarily from Larry. However, in Psycho Dad Busts Down Door, she turns on Jesse and refuses to help him since Jesse lied to her for THE PITFALL PRANK!
After Jesse was let back into the house, the relationship between her and Jeff Sr went sour eventually leading up to Psycho Mom Divorces Husband where she leaves the Ridgway Residence for good. After a brief stay with Uncle Larry, she got an offer with her friend Melissa to stay with her. After Jesse lied again about what Jeff Sr. said about her, the lie shifted her option to stay with Melissa which Jesse tried to stop.
Relations between his mother had begun to take a downward spiral after she moved into Melissa's house. With Melissa's influence, started to become more cold and distant towards her own son and even complained about Jesse's cameras and being filmed. In BOILING POINT!, he hoped that there was some shred of his mother that he loved still untouched by Melissa's influence. Though ultimately called her out that she's changed for the worst and did not stand up for him nor took his side despite Melissa constantly putting him down. A day later in CLEAN-UP CREW! while in the middle of cleaning up, his mother called him demanding that he does not to come over to Melissa's again and to leave her alone. Despite Jesse reasoning why he said what he said, it seems that the relationship had been damaged and that the relationship was no longer as close as it used to be, although Theresa did not approve of Melissa slapping Jesse in A SLAP IN THE FACE!
In THE FALLOUT! (PART 2), Jesse and Theresa's relationship was severely and almost permanently damaged when Theresa told Jesse to find another place to stay, since Theresa needed her privacy, which conflicted with Jesse's YouTube job. This caused Jesse to storm out of his newly-founded home in extreme anger, and to return once again to The Ridgway Residence to reside with his father and brother.
Beginning in WALK OF SHAME!, Jesse gave his mother the silent treatment until further notice, and was immensely mad at her.
In THE DIVORCE PAPERS!, Jesse and his mom for the first time in months talked to each other and showed no signs of reconciling any time soon.
In the end of ME SO HUNGRY!, Jesse sends a voicemail to her saying that he wishes to reconcile his relationship with her.
In NAIL IN THE COFFIN, It was revealed that she got a new phone number and although was upset that Jesse didn't see her for Mother's Day, she would like to see Jesse soon.
In SAVE YOURSELF!, Jesse and his mom repaired their relationship and are on good terms again after a huge argument that they had.
Larry is Jesse's uncle, at first Jesse thought he was like his father, but later on as the series progressed, he is shown to support him and his dream to pursue YouTube.
During Jesse's exile, Uncle Larry offers a place to stay for Jesse and quickly the two grew closer. Larry is shown to deeply care about Jesse as seen when he defends him in PSYCHO DAD FIGHTS UNCLE LARRY!, Larry has even started his own YouTube channel that he calls "Larry's Lounge". Jesse has even stated in Psycho Family Therapy that he sees Uncle Larry as a father figure. The two continued to cooperate with each other over the next several months, often helping each other film videos for their channels, and even worked together to destroy Jeffrey Jr.'s PS4 as revenge for the destruction of several of their belongings.
However, after the events of Psycho Dad Busts Down Door, Jesse and Uncle Larry's positive relationship almost unraveled and ended when Uncle Larry told Jesse that he shouldn't live in his house in order to prevent further tensions among the family. Taking offense to this, Jesse abandoned Uncle Larry's house and went to stay with Corn, now believing Uncle Larry to be no better than his father. They do eventually patch things up when Jesse sees the apology video from Uncle Larry and that he explains to Jesse how he didn't kick him out the house.
After the events of Psycho Family Supper, Jesse was let back into the house, and he and Larry had repaired their relationship which is stronger than ever.
However, due to the event of Uncle Larry's RV getting destroyed by Psycho Dad, he has become very tense and angry which was a side of him never seen. His anger only got worse in the vlog UNSALVAGEABLE! where he started talking to Jesse in an angry, uncaring tone and say his situation with the destroyed RV is more important than any of Jesse's problems which ultimately led to Uncle Larry leaving in his car after becoming tired of Jesse's submissive nature with his dad. This could likely escalate to Jesse's relationship with his uncle to be more conflicting to the point where Jesse and Uncle Larry will become estranged.
However, despite Larry's sudden coldness, and rudeness to Jesse in Psycho Uncle Impacts Pool, Jesse still helped the injured Larry and took him to the hospital. Later on, in WHAT I COULDN'T DO..., Larry reveals that he was trying to save Jesse from Jeff Sr, showing that Larry still cares about Jesse greatly.
Tom and Jesse appear to have a close relationship as the two are seen playing video games together often, however their relationship briefly turned sour when Tom told Jeffrey Sr. that Jesse was living at his house. The two made up after this and their relationship appears to be friendly once again until in PLASTIC WRAP BIGBRUDDA'S CAR! where Jesse lied to Tom in saying he was going to get his stuff and for Tom to drive Jesse to the house but instead he plastic wrapped JT's car which caused a negative downfall in their relationship. After the events of Psycho Family Supper, He and Jesse were back on good terms with each other.
However, because of Larry's injuries from Psycho Uncle Impacts Pool, after Jesse talks with Larry in WHAT I COULDN'T DO..., Tom angrily yells at Jesse about how Jesse was always being helped and supported by Larry while Jesse never returned the favor, and tells Jesse that he cannot stand to look at him anymore, and tells Jesse to leave and never come back, showing that their relationship is severely damaged.
Jesse's Girlfriend
Jesse and his girlfriend first met on a dating app called Tinder.
Jesse and his girlfriend seem to love and care about each other a lot, and his girlfriend supports Jesse despite knowing about the tensions that occur in his family.
In Psycho Relationship Problems, when Jesse had to return home early to help his dad mow the lawns, they have a fight over the situation since she was soon going to leave for Italy for two weeks. They seemed to almost break up, but make up at last second. Jesse's Dad has strained the relationship between Jesse and his girlfriend by not only banning her from The Ridgway Residence, but he also banned Jesse from ever seeing his girlfriend again because "all she does is enable you".
Trivia
Jesse is similar to Stephen Quire in the Greatest Freakout Ever series and Michael Green in the Angry Grandpa series because both have anger issues and break their families' belongings/get their belongings broken by their family.
Jesse is the most profane character in the series. He tends to say "fuck" dozens of times each episode. This is probably because he has a bipolar disorder.

However, in some videos (such as Hell's Kitchen), Jesse censors himself despite his viewers listening to him swear constantly in the Psycho Videos.
Jesse has cussed somewhere around 1,711 times through out all 50 episodes of the series.

Jesse always refuses to drink alcohol, and has been carded once when buying beer for Uncle Larry.

Jesse stopped drinking after his brain injury in 21 Shots.
Jesse considered drinking at Vidcon, but wasn't able to since he had mono.

Jesse worked in a bank once, mentioned in THE WEDDING CONFRONTATION!, which he quit to focus on YouTube. If he kept his job as a banker, then Jeffrey Sr. wouldn't concern about his son's job.
When Jesse grabs a stick-like object in an attempt to attack another person, Jeffrey Jr. calls him an island native, shown in Psycho Dad Shreds Video Games and Psycho Dad Buries Video Games. This is in reference on how island natives used their spears to attack enemies.
Jesse's favorite eatery is New Dodges Market.

However, in The Volunteer, he was kicked out of the restaurant because he ate a pastry without permission.

Over the last few months, Jesse appears to have become more destructive, acting more and more like his father through the recent events of the Psycho Series.

This is especially apparent in Psycho Kid Submerges Motorcycle, where he destroys Jeffrey Jr.'s motorcycle over his car getting painted pink.

Ironically, since the events of the aforementioned video, Jesse seems to praise his car being pink and even promoted it for breast cancer awareness month.

Jesse mentioned in Psycho Family Therapy that he doesn't believe in God (Christianity). In the QnA video #15, Jesse reveals that he is agnostic and he also says that he believes in the existence of aliens. In THROUGH THE ASHES! *PSYCHO UPDATE*, Jesse asked God for help to put the fire out. It starts to rain, causing Jesse to believe that God DOES exist and cares about him. He also prays to God again in TO THE HEAVENS! *PSYCHO UPDATE*.

However, it's a speculation if Jesse actually believes in God.

Jesse is the only character to appear in every single Psycho video to date (though only his voice was heard in Psycho Brother's Kung-Fu Freakout).
In ADORABLE BABY GOATS!, Jesse confirmed that he was meant to be born as a girl with Down Syndrome and that he'd be named Jessica, thus why his name is Jesse.
According to himself in LESS OF A MAN!, Jesse used to have orthodontic braces.
When Jesse recorded his voicemail for Dr. Nelson in i'm a psychopath., it was revealed that Jesse had suffered from mental health issues many years ago.
Psycho Appearances
References