"What's all of this? it's kind off scratched?. "
―John in THE HARD DRIVE
John Corntazer (born January 6, 1959) is the husband of Cheryl Cornatzer and father of Bethany Cornatzer and Zachary Cornatzer. He is shown to have extensive knowledge on computers. John frequently appears in Zachary Cornatzer's videos.
Biography
His first major appearance is
THE HARD DRIVE
, he is approached by Jesse and Corn, counting on him to help them with the broken hard drive. Jesse explains that the hard drive was destroyed by his father. While they were over, he was doing maintenance on his computer tower, one that ironically can work with the hard drive. After failing to retrieve the data, he wishes Jesse and Corn good luck as they leave to tell Jesse's mother the bad news.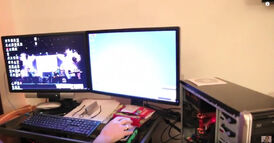 Community content is available under
CC-BY-SA
unless otherwise noted.