Juggies Store

GENERAL INFORMATION
Status:
Active
Located at:
Rosenhayn, NJ

GALLERY
The Juggies Store is a local store where Jesse's merchandise is made.
Merchandise
The merchandise mainly consists of t-shirts and hoodies, but also sells baseball hats, mugs and mouse pads.
Currently, the merchandise is centered around the YouTuber channels McJuggerNuggets, Larry's Lounge and BigBrudda. There is an online shop which can be found at ETSY.
History
Nearing Christmas time, a few weeks after Theresa's separation with Jeffrey Sr., Jeffrey Sr. arrives with flowers in hand and asks about the status of their relationship,when Theresa confirms that their relationship is over. Enraged, Jeffrey Sr. destroys a sewing machine, flips over two tables and pulls down some drapings. Uncle Larry, with a pipe in his hand, forces Jeffrey Sr. to leave the building. Theresa reveals that she still has feelings for him, which stops her from calling the police.[1]
Looking for a Job
When threatened to get a job within a week by Jeffrey Ridgway Sr., Jesse Ridgway was hired by Larry Abraham to work at the store, but was later forced to resign due to Jeffrey Sr.'s displeasure of the job.
Employees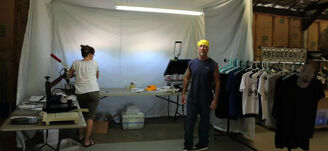 Real Life
References