List of the current known players in E.V.E. The goal for each ranked is to kill all other players in order to reach the land known as Haven and receive one wish from The Overlord.
Ranking
Once ranked, a player cannot permanently unrank themselves. Feeding off of XP will rank them up, with their rank number appearing as a roman numeral on their wrists. The highest known rank is 20, or "XX" (as seen by Malachi in "the heist."), and ranking up higher than the game can handle results in a double question mark (??) on their wrists. Physical injuries to a ranked player in game can causes physical suffering to them in real life, and if a ranked player dies in the game, they die in real life.
Unranked players can die and re-spawn an unlimited number of times. However, each time they die, it appears to incapacitate them temporarily in real life or weaken them. Ranked players can hurt or kill unranked players, but unranked players cannot kill ranked players.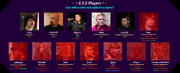 Alive Players
Unknown Status Players
Gingy (presumed alive)
Cop #1
Cop #2
Cop #3
Players reasons for playing E.V.E.
Isaac Kalder - For his sister Eve, back
Arachnid - For love
Joseph Kalder - Unknown, possibly for Eve back
Rebekah - For her ex-boyfriend/husband back
Malachi Samson - To be able to walk again
Solomon - For "his" parents to disappear
Solomon's Brotherhood - Unknown
John - Unknown
Gingy - For his father back
Aaron Andrews - Unknown
Elijah - Unknown
Other Entities of E.V.E
Visit each characters' individual page to view more information about them.
Michael Archer (Within E.V.E) and Louis Phillips (In Beta E.V.E.) (The Moderators)

They moderate the game, ensuring fair gameplay and no illegal activity (such as overusing XP, using a lag switcher, or possessing contraband items).

A.D.A.M (Tutorial Guide, formerly; Within E.V.E)

Former tutorial guide for E.V.E. He is a bot who was programmed to welcome and guide new players in the game, but wanted to become a player and now serves as one.

The Servant/Overlord (Within E.V.E) and Joseph Kalder (Beta E.V.E)

The "other hand" to the Overlord. He is constantly trying to convince players to kill Arachnid in the game. He is mysterious, as even A.D.A.M, the former tutorial bot does not know him. He is later revealed to be the Overlord himself.

Two Unknown Female Bots

Two of presumably several other bots in the game of E.V.E that serve as assistance to players. Seen in "dreaming.", the two assist a wounded Isaac by giving him XP.
Community content is available under
CC-BY-SA
unless otherwise noted.