McCann's Farm

GENERAL INFORMATION
Status:
Active
Located at:
New Jersey
Owner(s):
Pops
Inhabitants:
Anita
Nancy
Pops

GALLERY
Read the interview with McCann's Farm by the Psycho Kid wiki!
"Welcome to McCann's Farm! Glad you guys found us!"
―The McCan farm YouTube channel's description.
McCann's Farm is the residence of the McCann family and the former workplace of Jesse Ridgway in the Psycho Series. The farm was most prominent during the farming series, beginning at THE FARM! and last seen in GROWING PAINS!.
History
Early History
Edward and Margaret McCann purchased the farm in Aura, NJ January 25, 1951. They moved to the farm with their five children. As the family grew up, Tom and Ed became farmers, however Tom had a job off the farm for many years and returned to full time farming with his daughters in 2008.[1]
Anita and Nancy started farming with their father after Ed retired in 2008. Nancy with her husband, Mike and their daughters, Jessica and Colleen; Anita, her husband, Steve and their children, Tori, Joey and Charlie all live and work at the farm.
In April 2016, following Jesse's failure to meet the deadline on getting a job, Jeffrey Ridgway Sr. requested his brother, Chris, to get Jesse a job on the farm, which he reluctantly did. Jesse met Anita in THE FARM!. and started work with Corn in NO CAMERAS ALLOWED!.
Following a heated argument with Chris from having goat feces thrown at him in RAGE QUITTER! *PSYCHO UPDATE*, Corn quit his job, however returned to the farm in THE GREENHOUSE! to continue being Jesse's cameraman, but no longer working or getting paid.
Jesse and Corn continued to work at the farm for some time until April 26, 2016, when Jesse stopped working at the farm, as he quit to pursue his gaming and YouTube career. Jesse pleaded to his Uncle Chris, not to go out of his way to tell Jeff Sr., however supposedly at the time this plea was in vain, causing the events of Psycho Dad Demolishes Gaming Room and beyond.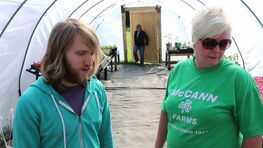 Jesse returned one last time to the farm in GROWING PAINS!, in attempt to locate Chris and find out if he told his father about quitting the job. Ultimately, Jesse found out about it the next day. Chris was obligated to tell his brother, but did not call him himself.[2]
Notable Employees
Animals
Cats
Chickens
Dogs
Goats
Pigs
Rabbits
Sheep
Links
Trivia
References
Community content is available under
CC-BY-SA
unless otherwise noted.