"My Dad, Parker, and I show up to Brian's apartment and confront him about everything. Things get too carried away..."
―Description
PSYCHO DAD FIGHTS BRIAN! is an episode of the HOLLYWOOD HYPE/DOCUMENTARY SERIES uploaded onto the McJuggerNuggets YouTube channel on September 21, 2016.
Plot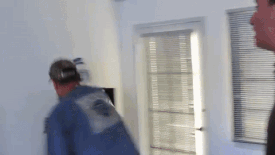 The video opens with Parker filming Jesse and Jeffrey Sr. walking towards Brian Spitz's apartment. After the two knock on the door several times, Brian finally answers and invites the two in. Jesse and Psycho Dad try to talk to him, but he ends up making things worse. An argument ensues, and Jeffrey Sr. snaps when Brian insults Jesse and calls him an annoying little flea. He then proceeds to grab a guitar and smashes a porcelain snowman statue, a flatscreen TV, and two framed photos while Jesse kicks Brian in the groin. Brian manages to escape and Jesse and Parker chase after him after Jesse knocks over some wine glasses. However, despite the intense foot chase, Brian manages to escape in his car before Jesse and Parker are able to catch him.
Characters
Things Broken/Damaged
Item
Destructor
Method
Result
Brian's Snowman Porcelain Statue
Jeffrey Ridgway Sr.
Smashed with Brian's guitar
Destroyed.
Brian's TV
Screen cracked
Brian's Picture Frames
Glass shattered, pictures still intact.
Brian's Guitar
Used to hit Brian's stuff.
Unknown, probably slightly damaged.
Brian's Wine Glasses
Jesse Ridgway
Sweeped off the table
Shattered
Brian Spitz
Jesse Ridgway
Kicked in the groin and chased
Stunned, recovered, escaped
Trivia
Despite being in the REAL LIFE VLOGS! playlist, this video was confirmed to be fake in THE FINAL SHOWDOWN!. Jesse later removed videos from the documentary series, including this one and made a separate playlist.
Community content is available under
CC-BY-SA
unless otherwise noted.