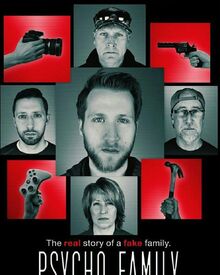 Psycho Family is a documentary about the creation story of the critically-praised McJuggerNuggets web-series called The Psycho Series. It was directed by Brian Spitz and co-produced by Jesse Ridgway and was released in 2017.
Plot
Through hours of cast interviews, documentary footage, Psycho Series episodes & vlogs, Psycho Series behind the scenes footage, old photos, & other videos, Brian Spitz has Jesse Ridgway and all of his family and friends tell the story of what they all had to go through to bring the famously praised Psycho Series to life.
Cast
Episodes
Chapter 1: Who is McJuggerNuggets?
Chapter 2: From Humble Beginnings
Chapter 3: The Family Business
Chapter 4: An Endless Road
Chapter 5: Blurring The Lines
Chapter 6: This Is Everything
Chapter 7: Reality at a Price
Chapter 8: Separation and Sacrifice
Chapter 9: Killing My Father
Chapter 10: What Comes Next...?
Chapter 11: All For You
Release
Psycho Family Documentary was released on go90 in the US it has been uploaded on YouTube but has been blocked due to copyright. In late November 2018, a seemingly official upload of the documentary was uploaded following the shutdown of go90. Jesse also posted the documentary on StoryFire.
Reception
The documentary was highly praised as fans felt sympathy for Jesse and his family and friends and were proud of them for what they accomplished through so many struggles. In fact, this film went on to win a streamy award for best documentary.