The Wingless Eagle was an RV trailer owned by Larry Abraham that was Jesse Ridgway's temporary residence until he was forced back in his house after running away. [1][2] After Jesse's gaming room was destroyed, Jesse resided in the RV once again, dubbing it "The Wingless Eagle". In less than two weeks of living inside the RV, Jeffrey Ridgway Sr. used his backhoe to destroy it.
Plot Overview
Jesse took residence in the RV after Larry's friend moved out of it. Jeffrey Jr. came to the RV and wrote "BIG BRUDDA IS WATCHING YOU." on the side, angering Uncle Larry.[3]
Jeffrey Ridgway Jr. came over again with Jeffrey Sr.'s truck and stole the RV, kidnapping Jesse along with it, bringing them to the Ridgway Residence.[4] Jeffrey Jr. was later ordered by Jeffrey Sr. to take the RV back to the Abraham Household. Jesse then moved out of the RV since he was allowed back to the Ridgway Residence. Before he left, Uncle Larry told Jesse he can always come back to the RV anytime.
Jesse stayed overnight in the RV in order to avoid further tensions with Jeffrey Ridgway Sr..[5]
In Psycho Dad Busts Down Door, Jesse returned to the RV after being kicked out of his house once again.[6] He left when he believed Uncle Larry was kicking him out.[7]
Theresa moved into the RV so that she had her own space and Jesse could visit without disturbing Uncle Larry.[8] She later moved out  to move to Melissa's house, so Jeffrey Sr. couldn't find her.[9]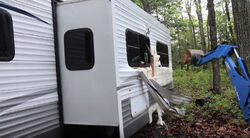 Jesse ran away from The Ridgway Residence. Uncle Larry lets him take the RV anywhere he wants to get away from Jeff Sr.[10]
It was revealed that the RV is actually in The Stahlberger Residence.[11] On May 13, 2016 - shortly after Melissa Stahlberger contacted Jeffrey Ridgway Sr.,[12] he tore the Wingless Eagle apart with his backhoe, effectively destroying it.[13]
Things Destroyed/Attempted Destruction in RV
Item Destroyed
Destroyer
Date
Video
Status or Effect
Uncle Larry's TV
Jeffrey Ridgway Sr.
December 11, 2015
POPPYJOHN KIDNAPPING!
TV: No Effect

Floor: Dented

Uncle Larry's Mirror
Melissa Stahlberger
May 8, 2016
THE DEVIL'S WOODS!
Shattered
Demma
Melissa Stahlberger
May 8, 2016
THE DEVIL'S WOODS!
Repaired by Jesse Ridgway
Uncle Larry's Microwave
Melissa Stahlberger
May 8, 2016
THE DEVIL'S WOODS!
Minor scuff marks
Jesse's TV
Melissa Stahlberger
May 11, 2016
EXTENDED YOUR WELCOME!
Rendered Unusable
Notable Inhabitants
Name
Status
When Moved In
When Moved Out
Date
Video
Date
Video
Larry's friend
Moved out
Prior to April 19th, 2015

& Prior to April 22nd, 2016

None
April 26th, 2015

May 2nd, 2016

MOVING INTO THE RV! (Offscreen)

MAYDAY! MAYDAY! (Offscreen)

Jesse Ridgway
Moved out
April 26th, 2015
MOVING INTO THE RV!
May 2nd, 2015
Psycho Dad Reacts to One Million Juggies
September 11th, 2015
Psycho Dad Busts Down Door
September 14th, 2015
THROWN OUT OF LARRY'S!
April 30th, 2016
ESTABLISHING A BASECAMP!
May 13th, 2016
Psycho Dad Rips Apart Trailer
Theresa Ridgway
Moved out
December 1st, 2015
RV BACK TOGETHER
December 13th, 2015
LET HER GO!
References